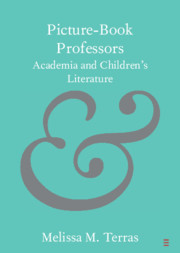 Academia and Children's Literature
Published online:

12 October 2018

Print publication:

04 October 2018

Element

How is academia portrayed in children's literature? This Element ambitiously surveys fictional professors in texts marketed towards children. Professors are overwhelmingly white and male, tending to be elderly scientists who fall into three stereotypes: the vehicle to explain scientific facts, the baffled genius, and the evil madman. By the late twentieth century, the stereotype of the male, mad, muddlehead, called Professor SomethingDumb, is formed in humorous yet pejorative fashion. This Element provides a publishing history of the role of academics in children's literature, questioning the book culture which promotes the enforcement of stereotypes regarding intellectual expertise in children's media. The Element is also available, with additional material, as Open Access.
---
Journal: British Journal of Nutrition / Volume 117 / Issue 2 / 28 January 2017
Published online by Cambridge University Press:

30 January 2017

, pp. 218-229

Print publication:

28 January 2017

The gastrointestinal alterations associated with the consumption of an obesogenic diet, such as inflammation, permeability impairment and oxidative stress, have been poorly explored in both diet-induced obesity (DIO) and genetic obesity. The aim of the present study was to examine the impact of an obesogenic diet on the gut health status of DIO rats in comparison with the Zucker (fa/fa) rat leptin receptor-deficient model of genetic obesity over time. For this purpose, female Wistar rats (n 48) were administered a standard or a cafeteria diet (CAF diet) for 12, 14·5 or 17 weeks and were compared with fa/fa Zucker rats fed a standard diet for 10 weeks. Morphometric variables, plasma biochemical parameters, myeloperoxidase (MPO) activity and reactive oxygen species (ROS) levels in the ileum were assessed, as well as the expressions of proinflammatory genes (TNF-α and inducible nitric oxide synthase (iNOS)) and intestinal permeability genes (zonula occludens-1, claudin-1 and occludin). Both the nutritional model and the genetic obesity model showed increased body weight and metabolic alterations at the final time point. An increase in intestinal ROS production and MPO activity was observed in the gastrointestinal tracts of rats fed a CAF diet but not in the genetic obesity model. TNF-α was overexpressed in the ileum of both CAF diet and fa/fa groups, and ileal inflammation was associated with the degree of obesity and metabolic alterations. Interestingly, the 17-week CAF group and the fa/fa rats exhibited alterations in the expressions of permeability genes. Relevantly, in the hyperlipidic refined sugar diet model of obesity, the responses to chronic energy overload led to time-dependent increases in gut inflammation and oxidative stress.
---
S. T. Paes, C. F. Gonçalves, M. M. Terra, T. S. Fontoura, M. de O. Guerra, V. M. Peters, P. C. de F. Mathias, A. E. Andreazzi
Journal: Journal of Developmental Origins of Health and Disease / Volume 7 / Issue 3 / June 2016
Published online by Cambridge University Press:

26 October 2015

, pp. 231-236

Print publication:

June 2016

The aim of our article was to review the current literature on the effects of metabolic (re) programming on childhood obesity. PubMed/MEDLINE was the data source used to track the studies. Descriptors applied: children obesity, epigenetic, metabolic programming, exercise and nutrition. The focus was to analyze and discuss the international findings on the theme. The gathering of the papers was performed between June and August 2014. The search of articles with the descriptors used found 33.054 studies. In all, 5.709 studies were selected by crossing chosen keywords. Among these, after careful reading of the titles, 712 papers were considered potential as references. After applying inclusion/exclusion criteria, 50 studies were selected from 132 eligible abstracts. Most studies linked the development and treatment of obesity from epigenetically stimulated metabolic programming during the early stages of pregnancy and life. This review provides theoretical basis to the understanding that the programmed development of childhood obesity may be linked to early exposure to environmental factors, such as (nutrition and regular practice of exercise) and stimulus can epigenetically alter the modulation of the obesogenic metabolic behavior during pregnancy and the developmental stages of children and/or postpone the pathophysiologic disease stage to adulthood.
---
Journal: Weed Science / Volume 55 / Issue 5 / October 2007
Published online by Cambridge University Press:

20 January 2017

, pp. 491-496

Print publication:

October 2007

Injury to weeds from sublethal doses of POST herbicides may reduce the effect of weed interference on crop yield. Information on how herbicide dose influences weed mortality, growth, and seed production is needed to assess the potential benefit of applying reduced herbicide doses. Field experiments were conducted at Mead, NE, in 2001 and 2002 to quantify velvetleaf mortality, growth, and corn–velvetleaf interference in response to varying doses of three POST herbicides. Untreated velvetleaf at six densities (0, 1, 3, 6, 12, and 20 plants m−1 corn row) was grown in mixture with corn to establish a baseline corn–velvetleaf interference relationship. Treated velvetleaf at a density of 20 plants m−1 row received one of five doses of dicamba, halosulfuron, or flumiclorac. Untreated velvetleaf height, biomass, and seed capsule production were greater in 2002 than 2001 and declined with increasing velvetleaf density in both years. Corn yield was not affected by untreated velvetleaf in 2001, but yield loss increased with increasing velvetleaf density in 2002. Mortality of herbicide-treated velvetleaf was 56% greater in 2001 than 2002 and increased with increasing herbicide dose. Maximum height of treated velvetleaf was similar for all treatments in 2001 but declined with increasing herbicide dose in 2002. Biomass and seed production of treated velvetleaf varied among herbicides in 2002 and decreased with increasing dose. Corn yield was not influenced by velvetleaf in 2001, but yield loss in response to herbicide-treated velvetleaf declined with increasing herbicide dose in 2002. Results show that the assumption that weeds surviving herbicide application are as competitive as untreated weeds is incorrect. Reduction in growth and resource consumption by herbicide-damaged weeds reduced the negative effects of weeds on corn.
---
Published online by Cambridge University Press:

15 January 2007

, pp. 425-432

Print publication:

July 2007

In this paper, two nonlinear control techniques are used to solve the position control problem of underactuated cooperative manipulators. The first technique consists in representing the nonlinear system in a quasi-linear parameter varying form and the solution is given in terms of linear matrix inequalities. The second technique gives an explicit solution to the cooperative manipulators control problem. The control of the squeeze force between the manipulator end-effectors and the object is also evaluated. Results obtained from an actual cooperative manipulator, which is able to work as a fully actuated and an underactuated manipulator, are presented.
---
Olivia Castellini, Carie E. Holladay, Terra Theim, Gina K. Walejko, Greta M. Zenner, Paul Krajniak, Wendy C. Crone
Journal: MRS Online Proceedings Library Archive / Volume 909 / 2005
Published online by Cambridge University Press:

26 February 2011

, 0909-PP02-03

Print publication:

2005

The use of exhibits in informal science education venues such as science centers and museums is an integral part of engaging students in science, encouraging them to take science courses in school, and motivating them to pursue science and engineering careers. Through an Internships in Public Science Education Program funded by the National Science Foundation and in partnership with the education efforts of the Materials Research Science and Engineering Center (MRSEC) and the Discovery World Museum of Science, Economics and Technology, we have built and tested interactive components for museum exhibits on advanced materials science and nanotechnology concepts. Our front-end assessment revealed a gap in scientific understanding about objects smaller than can be seen by the naked eye. Facts learned through standard teaching methods were easily recalled, but in-depth, conceptual knowledge and application of those facts are lacking in both children and adults. We designed interactive exhibits to specifically address this disconnect in comprehension. By inviting the learner to actively participate in an interactive exhibit activity, he or she is able to develop a deeper understanding of advanced materials concepts that are difficult to teach with textbooks alone. Formative assessment of our exhibit prototypes show that students and adults not only participate in the interactive exhibit activity, but are able to learn and apply the concepts contained within them.
---
Journal: Journal of Fluid Mechanics / Volume 520 / 10 December 2004
Published online by Cambridge University Press:

29 November 2004

, pp. 93-134

Print publication:

10 December 2004

In this paper the qualitative nonlinear influence of advection and continuity on the resonance characteristics of co-oscillating coastal basins is investigated. For this purpose a weakly nonlinear analysis was carried out on the shallow-water equations describing a coastal basin resonating with exterior water-level oscillations. It extends previous work on an almost-enclosed basin with one single (Helmholtz) mode to arbitrarily shaped 'shallow' basins with an infinite number of modes. In line with that work, it is necessary to assume friction to be sufficiently weak such that it is in balance with the nonlinear effects, instead of occurring in the linearized equations. The main result of this paper is the system of Landau equations describing the slow evolution of the amplitudes of the oscillatory eigenmodes of the basin, disregarding a zero-frequency eigenmode, should it exist. The dynamics of the zero-frequency mode neglecting oscillatory eigenmodes have been discussed by others, but a consistently balanced model for small amplitudes incorporating both the zero-frequency and oscillatory modes is not yet available. The behaviour of this system, describing the dynamics of the oscillatory eigenmodes only, is analysed. On the longer time scale, it gives rise to a 'bent resonance curve', multiple equilibria (several tidal regimes under the same tidal forcing), sudden regime changes and even chaotic dynamics (when these regime changes occur in an irregular way).
---
Journal: Annales de Limnologie - International Journal of Limnology / Volume 28 / Issue 2 / 1992
Published online by Cambridge University Press:

01 February 2009

, pp. 131-133

Print publication:

1992

L'imago ♂ de Tinodes aravil, espèce nouvelle du Portugal, est décrite. Elle est isolée dans le cadre du genre par la forme des gonopodes de même que par la conformation du complexe phallique.
---