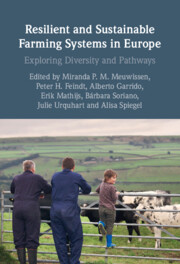 Exploring Diversity and Pathways

Coming soon

Expected online publication date:

April 2022

Print publication:

30 April 2022

What exactly is resilience and how can it be enhanced? Farming systems in Europe are rapidly evolving while at the same time being under threat, as seen by the disappearance of dozens of farms every day. Farming systems must become more resilient in response to growing economic, environmental, institutional, and social challenges facing Europe's agriculture. Since the COVID-19 pandemic, the need for enhanced resilience has become even more apparent and continues to be an overarching guiding principle of EU policy making. Resilience challenges and strategies are framed within four main processes affecting decision making in agriculture: risk management, farm demographics, governance and agricultural practices. This empirical focus looks at very diverse contexts, with eleven case studies from Belgium, Bulgaria, France, Germany, Great Britain, Italy, Netherlands, Poland, Romania, Spain and Sweden. This study will help determine the future and sustainability of European farming systems. This title is available as Open Access on Cambridge Core.
---
Journal: European Journal of Risk Regulation / Volume 6 / Issue 3 / September 2015
Published online by Cambridge University Press:

20 January 2017

, pp. 361-368

Print publication:

September 2015

The European Commission's (Commission) Better Regulation Strategy (BRS) is the major guideline for the Commission to assess legislation. It draws on regulatory impact assessment (RIA) via cost–benefit analysis (CBA), expert advice, and simplification in EU law–making. Yet, the practice of RIA by the Commission as well as in EU member states, while unavoidably incomplete, has shown avoidable shortcomings. The Commission's New Better Regulation Strategy of 2015 (NBRS) contains language that appears to address these shortcomings. If pursued consequentially, it would require an approach that resembles what has been called responsive behavioural regulation. At the same time, global initiatives from inter alia the World Bank emerge to include behavioural insights into policy analysis in the form of responsive regulation. This piece assesses potential models of RIA that can help to articulate the behavioural assumptions which are implied by NBRS as enshrined in the policy document "Better regulation for better results". The methodological implications of the NBRS require a significant departure from the reliance on classical CBA, which is characteristic for the previous "Better Regulation" documents submitted by the Commission and which we term Old Better Regulation Strategy (OBRS).
---