---
---
Book: Imaging of the Newborn
Published online:

05 March 2012

Print publication:

24 November 2011

, pp

xii-xii

Summary

The care of the newborn has become a team sport; one where teamwork is crucial. We can no longer think exclusively of the neonatology healthcare team, but must also consider all of the other sub-specialty disciplines. While some of these disciplines are not always available at all healthcare facilities, generally radiology is. This is because one of the first investigations performed on so many ill newborn infants is the straight x-ray. This alone makes it imperative that the neonatal team and the radiological team speak the same language. This is one of the main purposes of this book: to allow juniors in each discipline an introduction to what the other player is thinking of as regards presentations, differential diagnoses, etc. Both medical specialists (i.e. neonatal, renal, and obstetric disciplines) and radiologists have combined to outline how this dialogue takes place for an individual infant. We intend here to illustrate a joint approach to the ill infant.

Nowadays the learning demands on junior strata of the entire healthcare multidisciplinary team that gets involved in looking after an ill infant are enormous. Unsurprisingly, the needed emphasis on any single aspect of the clinical assessment may not be always possible. This is true of the radiological assessment. By selective examples, we hope that learners who feel the need for a fuller immersion in this discipline will find this book of benefit. Hence this is the second main purpose of this book.
---
---
Book: Imaging of the Newborn
Published online:

05 March 2012

Print publication:

24 November 2011

, pp

1-6

Summary

The team approach to neonatal imaging

The clinical and radiological examinations are the foundation of medical investigation of the acutely ill neonate. The proper use and interpretation of radiological studies requires teamwork and clear communication between the clinicians (including the obstetricians and surgeons, as appropriate) and the radiologists. Some literature confirms that a radiologist's interpretation oft en differs from the clinician's interpretation. In a prospective study, five pediatric intensivists interpreted 460 chest x-rays (CXRs) and were matched against a "gold-standard" opinion of a pediatric radiologist. This resulted in "important" discordance in 7% of CXRs, but most of these did not lead to management changes [1]. These data can be used to support an argument that clinicians do not need interpretative assistance. Alternatively, one could say that clinicians have an unacceptable rate of incorrect interpretation. The CXR is the most frequent radiological test in intensive care units. Differences between clinician and radiologist interpretations are greater when less common forms of radiology are evaluated. We suggest that the different perspectives of the clinician and the radiologist can be viewed as symbiotic.

With the advent of digital radiology, direct face-to-face communication with the radiologist has become less common. To facilitate a coordinated approach, regular rounds between the radiologists responsible for reporting the neonatal films and the clinical team are advised.
---
Book: Imaging of the Newborn
Published online:

05 March 2012

Print publication:

24 November 2011

, pp

11-40

Summary

Physiology, presentations, and clinical signs

Several newborn lung diseases present very similarly, whether in the preterm or the term infant. Varying combinations of tachypnea, apnea, nasal flaring, expiratory grunting, sternal or costal retractions, and a supplemental oxygen need or cyanosis are manifestations of "respiratory distress." In the preterm infant, this usually results from surfactant deficiency which has come to be termed respiratory distress syndrome (RDS). Historically, this same disease process has been referred to as hyaline membrane disease (HMD) because of the histological appearance of the lung.

The newborn transition to extrauterine life is dominated by the need to mobilize lung fluid into the interstitial space and establish a functional residual capacity (FRC). A vivid illustration of mobilization of fetal lung fluid in an animal model from Hooper et al. [1] can be seen at www.fasebj.org/content/21/12/3329/ suppl/DC1. Post-natally, the struggle to recruit and maintain FRC in the preterm infant continues because of the combination of poorly alveolarized lungs and surfactant deficiency. To compound matters, both preterm and full-term infants have extremely compliant chest walls, which results in a tendency for the respiratory units to collapse at end-expiration.

Two other physiological features are relevant to the growth of the lung. First, the in utero lung is a secretory organ which contributes to the production of amniotic fluid.
---
---
Book: Imaging of the Newborn
Published online:

05 March 2012

Print publication:

24 November 2011

, pp

7-10

Summary

Recent commentaries describe the dearth of evidence upon which to base most imaging decisions [1]. The lack of instructive literature is arguably an even larger deficiency in newborn medicine than in adult medicine. Unfortunately, very few imaging modalities have been subject to randomized trial evaluation to assess the value of imaging as a supplement to sound clinical assessment. The irrational drivers of increased imaging and increased use of more sophisticated modalities include fears of liability and clinicians' or patients'/parents' wishes to have the "best" and "latest" imaging technology. In adult practice in Massachusetts, a survey indicated that more than 28% of diagnostic tests were performed for fear of litigation [2]. To use modern imaging technology efficiently and effectively, the clinician is advised to apply some fundamentals of clinical epidemiology. Below we provide a simple critical approach to assessing the potential value of imaging technology in patient diagnosis and management.

Reliability: how reproducible are the results?

"Reliability" refers to the reproducibility or repeatability of results. There are two important types of reliability: intra-rater reliability and inter-rater reliability. Intra-rater reliability is the reproducibility of interpretation of a diagnostic study by one individual. In other words, it asks: "On a different day, would the radiologist/film reader give the same report?" Interrater reliability refers to the repeatability of interpretations between individuals.
---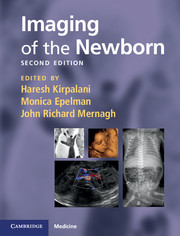 2nd edition
Published online:

05 March 2012

Print publication:

24 November 2011

This fully revised new edition of a popular practical guide provides a concise introduction to radiology in neonates, covering the full range of problems likely to be encountered in the neonatal ICU. The material is presented in atlas format, with concise text descriptions to provide a quick overview of the indications, utility, appearances and interpretation of images of common neonatal pathology. Numerous high-quality images enable easy 'matching' with clinical cases faced by the reader. New to this edition:Images updated throughout to reflect improvements in equipment and scanning techniquesExpanded chapters on cardiovascular problems, bone and prenatal ultrasoundNew chapters on clinical utility of procedures, metabolic and inborn errors of metabolism, and antenatal diagnosis of common abnormalitiesConcise and practical, this is an essential training resource for all those who work in the neonatal ICU, including pediatric residents and trainees, junior radiologists and nurse practitioners.
---
---
---
Anne G. Matlow, Ian Kitai, Haresh Kirpalani, Nicola H. Chapman, Mary Corey, Max Perlman, Paul Pencharz, Sue Jewell, Cindy Phillips-Gordon, Richard Summerbell, E. Lee Ford-Jones
Journal: Infection Control & Hospital Epidemiology / Volume 20 / Issue 7 / July 1999
Published online by Cambridge University Press:

02 January 2015

, pp. 487-493

Print publication:

July 1999

Objective:

To compare the microbial contamination rate of infusate in the intravenous tubing of newborns receiving lipid therapy, replacing the intravenous delivery system at 72-hour versus 24-hour intervals.

Design:

Infants requiring intravenous lipid therapy were randomly assigned to have intravenous sets changed on a 72- or a 24-hour schedule, in a 3:1 ratio, in order to compare the infusate contamination rates in an equivalent number of tubing sets.

Setting:

A 35-bed, teaching, referral, neonatal intensive-care unit (NICU).

Participants:

All neonates admitted to the NICU for whom intravenous lipid was ordered.

Methods:

Patients were randomized in pharmacy, on receipt of the order for intravenous lipid therapy, to either 72- or 24-hour administration set changes, and followed until 1 week after discontinuation of lipids or discharge from the NICU. Microbial contamination of the infusate was assessed in both groups at the time of administration set changes. Contamination rates were analyzed separately for the lipid and amino acid-glucose tubing sets. Patient charts were reviewed for clinical and epidemiological data, including birth weight, gestational age, gender, age at start of lipid therapy, duration of parenteral nutrition, and type of intravenous access.

Results:

During the study period, 1,101 and 1,112 sets were sampled in the 72- and 24-hour groups, respectively. Microbial contamination rates were higher in die 72-hour group than the 24-hour group for lipid infusions (39/1,101 [3.54%] vs 15/1,112 [1.35%]; P=.001) and for amino acid infusions (12/1,093 [1.10%] vs 4/1,103 [0.36%]; P=.076). Logistic regression analysis controlling for birth weight, gestational age, and type of venous access showed that only the tubing change interval was significanfly associated with lipid set contaminations (odds ratio, 2.69; P=.0013). The rate of blood cultures ordered was higher in die 72-versus the 24-hour group (6.11 vs 4.99 per 100 patient days of total parenteral nutrition; P=.017), and a higher proportion of infants randomized to the 72-hour group died (8% vs 4%; P=.05), although the excess deaths could not clearly be attributed to bacteremia.

Conclusion:

Microbial contamination of infusion sets is significantiy more frequent with 72- than witii 24-hour set changes in neonates receiving lipid solutions. This may be associated with an increased mortality rate.
---