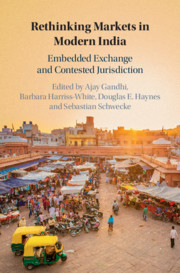 Embedded Exchange and Contested Jurisdiction

Coming soon

Expected online publication date:

November 2020

Print publication:

30 November 2020

To people operating in India's economy, actually existing markets are remarkably different from how planners and academics conceive them. From the outside, they appear as demarcated arenas of exchange bound by state-imposed rules. As historical and social realities, however, markets are dynamic, adaptative, and ambiguous spaces. This book delves into this intricate context, exploring Indian markets through the competition and collaboration of those who frame and participate in markets. Anchored in vivid case studies – from colonial property and advertising milieus to today's bazaar and criminal economies – this volume underlines the friction and interdependence between commerce, society, and state. Contributors from history, anthropology, political economy, and development studies synthesize existing scholarly approaches, add new perspectives on Indian capitalism's evolution, and reveal the transactional specificities that underlie the real-world functioning of markets.
---
Soumitra Pathare

,

Michelle Funk

,

Natalie Drew Bold

,

Ajay Chauhan

,

Jasmine Kalha

,

Sadhvi Krishnamoorthy

,

Jaime C. Sapag

,

Sireesha J. Bobbili

,

Rama Kawade

,

Sandeep Shah

,

Ritambhara Mehta

,

Animesh Patel

,

Upendra Gandhi

,

Mahesh Tilwani

,

Rakesh Shah

,

Hitesh Sheth

,

Ganpat Vankar

,

Minakshi Parikh

,

Indravadan Parikh

,

Thara Rangaswamy

,

Amritkumar Bakshy

,

Akwatu Khenti
Journal: The British Journal of Psychiatry , FirstView
Published online by Cambridge University Press:

20 June 2019

, pp. 1-8

Background

Recognising the significant extent of poor-quality care and human rights issues in mental health, the World Health Organization launched the QualityRights initiative in 2013 as a practical tool for implementing human rights standards including the United Nations Convention on Rights of Persons with Disabilities (CRPD) at the ground level.

Aims

To describe the first large-scale implementation and evaluation of QualityRights as a scalable human rights-based approach in public mental health services in Gujarat, India.

Method

This is a pragmatic trial involving implementation of QualityRights at six public mental health services chosen by the Government of Gujarat. For comparison, we identified three other public mental health services in Gujarat that did not receive the QualityRights intervention.

Results

Over a 12-month period, the quality of services provided by those services receiving the QualityRights intervention improved significantly. Staff in these services showed substantially improved attitudes towards service users (effect sizes 0.50–0.17), and service users reported feeling significantly more empowered (effect size 0.07) and satisfied with the services offered (effect size 0.09). Caregivers at the intervention services also reported a moderately reduced burden of care (effect size 0.15).

Conclusions

To date, some countries are hesitant to reforming mental health services in line with the CRPD, which is partially attributable to a lack of knowledge and understanding about how this can be achieved. This evaluation shows that QualityRights can be effectively implemented even in resource-constrained settings and has a significant impact on the quality of mental health services.

Declaration of interest

None.
---
K. T. Ramya

,

Neelu Jain

,

Nikita Gandhi

,

Ajay Arora

,

P. K. Singh

,

Anju M. Singh

,

Gyanendra P. Singh

,

K. V. Prabhu
Journal: Plant Genetic Resources / Volume 15 / Issue 3 / June 2017
Published online by Cambridge University Press:

23 November 2015

, pp. 208-220

Print publication:

June 2017

Genetic diversity and relationship of 92 bread wheat (Triticum aestivum L.) genotypes from India and exotic collections were examined using simple sequence repeat (SSR) markers and phenotypic traits to identify new sources of diversity that could accelerate the development of improved wheat varieties better suited to meet the challenges posed by heat stress in India. Genetic diversity assessed by using 82 SSR markers was compared with diversity evaluated using five physiological and six agronomic traits under the heat stress condition. A total of 248 alleles were detected, with a range of two to eight alleles per locus. The average polymorphic information content value was 0.37, with a range of 0.04 (cfd9) to 0.68 (wmc339). The heat susceptibility index was determined for grain yield per spike, and the genotypes were grouped into four categories. Two dendrograms that were constructed based on phenotypic and molecular analysis using UPGMA (unweighted pair group method with arithmetic mean) were found to be topologically different. Genotypes characterized as highly heat tolerant were distributed among all the SSR-based cluster groups. This implies that the genetic basis of heat stress tolerance in these genotypes is different, thereby enabling wheat breeders to combine these diverse sources of genetic variability to improve heat tolerance in their breeding programmes.
---