Published online:

03 September 2021

Print publication:

09 September 2021

, pp

ix-xiv

Summary

Moving from the recently changed landscape in literary theory, in which the distinction between sacred and secular literature blurs, this book demonstrates that Dante's Vita nuova harbors enormous potential for responding creatively to the cultural and intellectual crises of our times. Our "post-truth" era can rediscover the deeper meaning of truth as a poetic interpretation of what in the Middle Ages could still be understood as theological revelation. Dante's "little book" makes startlingly clear how theology is crucial to the continuing intelligibility and viability of the humanities. Meant here is especially negative theology, or theology as (negated by) poetry. Theology, qua negative, is the knowing of our own unknowing of divinity – or of whatever it is that most deeply bonds us together as humans and grants us our very existence together with everything else. Dante's hybrid of lyric poetry and autobiographical prose in his "little book" shows how the language of theology, like that of poetry, is grounded in the ineffability of human existence itself. This recognition is the beginning of the critique of all ideology as, in effect, idolatry. On this basis, a possibility of salvation through and for humanities tradition and theological revelation alike is projected from Dante's work into our contemporary times.
---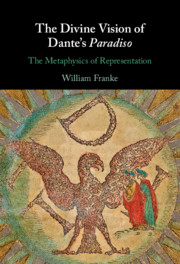 The Metaphysics of Representation
Published online:

26 August 2021

Print publication:

19 August 2021

In Canto XVIII of Paradiso, Dante sees thirty-five letters of Scripture - LOVE JUSTICE, YOU WHO RULE THE EARTH - 'painted' one after the other in the sky. It is an epiphany that encapsulates the Paradiso, staging its ultimate goal - the divine vision. This book offers a fresh, intensive reading of this extraordinary passage at the heart of the third canticle of the Divine Comedy. While adapting in novel ways the methods of the traditional lectura Dantis, William Franke meditates independently on the philosophical, theological, political, ethical, and aesthetic ideas that Dante's text so provocatively projects into a multiplicity of disciplinary contexts. This book demands that we question not only what Dante may have meant by his representations, but also what they mean for us today in the broad horizon of our intellectual traditions and cultural heritage.
---
Published online:

15 July 2021

Print publication:

22 July 2021

Written by leading scholars on Philip Roth from around the globe, this book offers new insight into the various contexts that inform his body of work. It opens with an overview of Roth's life and literary influences, before turning to important critical, geographical, theoretical, cultural, and historical contexts. It closes with focused meditations on the various iterations of Roth's legacy, from the screen to international translations of his work to his signature stylistic imprint on American letters. Together, all of these chapters reveal Roth's range as a writer, as he interrogates American national identity and history, and explores the dimensions of the individual self.
---
from Part I - The Structure and Scope of the Moral Point of View
Book: Morality and Metaphysics
Published online:

09 June 2021

Print publication:

17 June 2021

, pp

72-91

Summary

An ethics of reading holds that reading is itself an act of ethical significance. When reading is responsible to the meaning of a text, it shows the author a respect the author deserves. Developing this ethics of reading places some of the key questions of philosophical hermeneutics – that is, of the theory of interpretation – in a new and illuminating setting. Just as importantly, it shows how reading in its ethical dimension gives powerful expression to the essence of ethical thinking itself.
---
Published online:

06 April 2021

Print publication:

15 April 2021

, pp

1-13

Chapter

You have access

Access

Open access

Summary

This introduction outlines the aims of Virtual Play to propose an alternative mode of literary engagement to existing forms of historicist, aesthetic, and ideological criticism, especially those which have fallen under the label of the 'hermeneutics of suspicion'. It defines the book's use of the terms 'play' and 'virtual', especially in relation to recent theoretical and philosophical work around these topics, establishes the stakes of a new, more vicarious criticism, and justifies why the novel form in the mid-nineteenth century is an especially productive intersection for this practice. It explains the structure of the book, and provides an outline of the argument within each chapter.
---
Published online:

06 April 2021

Print publication:

15 April 2021

, pp

174-178

Chapter

You have access

Access

Open access

Summary

This conclusion places the arguments of Virtual Play within the larger context of virtual and fictional experiences in our culture, and reiterates the stakes of a more participatory, more vicarious criticism for understanding why imaginative literature continues to matter today. It gives a brief account of the 'patch notes' to the popular video game The Sims 4, and suggests how the imaginative structure of digital simulations meaningfully parallels the pleasures of novel fiction we have been documenting. Finally, it acknowledges potential problems with and proposes a future direction for this research, pointing to the role that vicarious reading has to play both in raising and answering questions about simulated violence and intimacy.
---
A Literary History, 1945–2008
Published online:

27 March 2021

Print publication:

11 March 2021

Bryan M. Santin examines over a half-century of intersection between American fiction and postwar conservatism. He traces the shifting racial politics of movement conservatism to argue that contemporary perceptions of literary form and aesthetic value are intrinsically connected to the rise of the American Right. Instead of casting postwar conservatives as cynical hustlers or ideological fanatics, Santin shows how the long-term rhetorical shift in conservative notions of literary value and prestige reveal an aesthetic antinomy between high culture and low culture. This shift, he argues, registered and mediated the deeper foundational antinomy structuring postwar conservatism itself: the stable social order of traditionalism and the creative destruction of free-market capitalism. Postwar conservatives produced, in effect, an ambivalent double register in the discourse of conservative literary taste that sought to celebrate neo-aristocratic manifestations of cultural capital while condemning newer, more progressive manifestations revolving around racial and ethnic diversity.
---
Published online:

27 March 2021

Print publication:

11 March 2021

, pp

1-23

Summary

The introduction posits a crucial hypothetical question: If the basic trajectory of the postwar literary field saw highbrow fiction become increasingly associated with progressive liberal politics, even though the simultaneous trajectory of postwar American politics saw the fall of New Deal liberalism and the rise of a historically unique form of modern conservativism, then what insights about literary taste and perceptions of aesthetic value could a book-length reconstruction of these dual literary-historiographic narratives produce? After reviewing the germane existing scholarship, this chapter explains that the aim of Postwar American Fiction and the Rise of Modern Conservatism is not just to unravel the perception that highbrow literature is a natural, virtually inexorable, ally of post-sixties progressive liberalism, but also to show how that connection is a historically contingent development shaped in part by deeper arguments within movement conservatism about the purpose and acquisition of literary cultural capital.
---
Published online:

23 January 2021

Print publication:

28 January 2021

, pp

170-194

Summary

Chapter 5 argues that the Synoptic gospels can be read as a "subversive biography" in the tradition of similar treatments of notable underdogs like Alexander the Great in the Alexander Romance or the notorious Aesop. Situating the gospels securely within a new genre classification demonstrates their engagement with the literary culture of the imperial period. Thus, specific characteristics of Jesus' portrayal in the Synoptics need not be a function of oral tradition, but a reflection of the rational interests of elite, imperial writers.
---
Published online:

17 October 2019

Print publication:

07 November 2019

, pp

1-6

Summary

Ezra Pound's rallying call to 'Make It New' became a powerful Modernist motto, invoking a sense of renewal in the avant-garde project in casting off the dead weight of stale custom and forging a new aesthetic. Pound famously adapted this phrase – 薪 日 日 薪 (xin ri xin) – from the ancient Shang Dynasty Emperor Ch'eng T'ang (1766–1753 BCE), who, legend has it, inscribed it on the side of his bathtub. It is a gesture emblematic of Pound's career, crossing history and linguistic borders to create new art informed by the best that had gone before, and it quickly became a heuristic device by which to understand Pound's artistic legacy and his role in cultural history.
---
Journal: International Journal of Law in Context / Volume 15 / Issue 3 / September 2019
Published online by Cambridge University Press:

17 September 2019

, pp. 310-326

Print publication:

September 2019

This paper explores the relationship between style and epistemology as regards the discipline of law – especially in the Romanistic tradition – and, more specifically, its resistance to interdisciplinarity. Drawing on literary theory and discourse analysis literature, the first part of this paper examines the notion of 'style' in relation to academic disciplines. It argues that the variety of writing styles reflects the various epistemologies underlying the different disciplinary discourses and makes interdisciplinarity difficult to implement in general. The second part of this study borrows Roland Barthes's distinction between 'readerly' and 'writerly' texts in order to show that lawyers' writing manners hinder the ability of law to connect with other disciplines. Against the background of the two sections, this contribution will finally include a discussion on what could be done to enhance law(yers)'s capability for interdisciplinary thinking, concluding that style might be not so insignificant a place to start with.
---
from Part II - Books, Discourse and Traditions
Published online:

24 June 2019

Print publication:

11 July 2019

, pp

65-71

Summary

Medieval literary theory, generated in the educational system and commentary tradition, consisted of systems and conceptual tools for interpreting and communicating the teachings of canonical works. It also offered a range of roles for a writer to adopt or cite for reworking authors (auctores) and authority (auctoritas), as well as materials of lesser prestige. A fascinating hierarchy of literary roles, as variously practised by writers, was delineated by St Bonaventure. This ascended from the humble scribe (a mere copyist), via the compiler (a re-arranger adding nothing of his own) and then the commentator (who ostensibly only explicates the words of the others), to the author, an autonomous asserter who only resorts to the words of others to confirm his own self-styled materials. These roles had considerable implications for Chaucer. This chapter also looks at the terminology for interpreting texts deriving from the academic prologue (accessus) and at different schemes for the understanding of levels of meaning within texts. It closes with a brief mention of the relationship between prescriptive poetics and interpretation in medieval rhetorical tradition.
---
Published online:

24 June 2019

Print publication:

11 July 2019

, pp

25-154

Summary

Thomas Hoccleve referred to Chaucer as the 'firste fyndere of our faire langage'. The word fyndere is carefully chosen, as a modified translation of the first 'canon' of classical and medieval rhetoric, the ancestor of present-day English invention. Any assessment of Chaucer's 'poetic art' requires us not just to identify the linguistic choices available to him, it also requires us to ask how those choices relate to his broader poetics. Chaucer's use of 'pronouns of power', for example, do not only characterise particular choices from the linguistic resources of London Middle English, they are also a matter of style, a notion for which classical and medieval literary theoreticians had their own terminology, distinguishing high, middle and low styles, widely recognised as having distinct functions relating to social status and roles. It is conceivably as a metrist, however, that Chaucer's skill as a 'finder' is perhaps most subtly demonstrated, as examples from his works show.
---
Journal: Scottish Journal of Theology / Volume 71 / Issue 1 / February 2018
Published online by Cambridge University Press:

13 February 2018

, pp. 1-15

Print publication:

February 2018

This essay explores the overlapping territory between the phenomenon known as 'imaginative resistance' in literary, psychological and philosophical circles and Karl Barth's theological hermeneutic. Imaginative resistance refers to the way readers are willing to give consent to all sorts of implausible things in the context of a fiction, but become uneasy when asked to imagine that something they consider morally or ethically reprehensible is good. The essay offers an overview of the current scholarly theories regarding the origins of the phenomenon of imaginative resistance, arguing that none of them provide an adequate account of imaginative resistance in relation to a text read as 'Word of God'. The essay suggests that Karl Barth's theological hermeneutic does not offer a 'solution' to imaginative resistance in relation to scripture, but rather deepens and redescribes it in meaningful ways by acknowledging the appropriateness of the interpreter's resistance while encouraging continued engagement even with the claims of challenging biblical texts.
---
Journal: Scottish Journal of Theology / Volume 65 / Issue 3 / August 2012
Published online by Cambridge University Press:

27 July 2012

, pp. 289-308

Print publication:

August 2012

Formation constitutes the key link between reception theory, Jauss and scripture. The Bible shapes readers by showing them what lies beyond the self. Hans Robert Jauss (1921–97) remains the effective founder of reception theory or reception history. He was a literary theorist, who specialised in romance literature. Following Hans-Georg Gadamer, he insisted that texts carry 'a still unfinished meaning', and focused on their historical influence. The exposition of how communities or thinkers have received texts includes de-familiarisation; sometimes the 'completion' of meaning, as in much reader-response theory; and instances of when a text 'satisfies, surpasses, disappoints, or refutes the expectations' of readers. Reception theory can often trace continuity in the reception of texts, as well as disjunctions, reversals and surprises. It offers a more disciplined approach to scripture than most reader-response theories. Clearly horizons of expectation play a major role in the interpretation of biblical texts. I suggest six direct parallels with biblical interpretation. (1) Like Francis Watson and others, Jauss rejects any value-neutral objectivism in interpretation. (2) The readers' horizon of expectation derives partly from earlier readings of the text. (3) Horizons can move and change, and thus transform readers as these change. (4) Biblical genres display all of Jauss' accounts of the responses of readers. For example, parables of reversal may surpass what the Christian believer expects, or disappoint the unbeliever. (5) Like Gadamer, Jauss emphasises the importance of formulating constructive questions in approaching texts. (6) Jauss' 'levels of reading' correspond closely with Bakhtin's notion of polyphony. I compare Ormond Rush's work on reception and otherness, and Luther's insistence that the Bible often confronts us as our adversary to judge and to transform us. Finally, we illustrate the history of reception from Ulrich Luz on Matthew, from Childs on Exodus, and from my commentaries on 1 Corinthians and 1 and 2 Thessalonians.
---