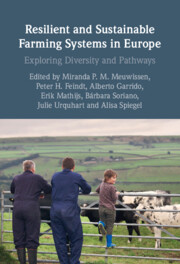 Exploring Diversity and Pathways

Coming soon

Expected online publication date:

April 2022

Print publication:

30 April 2022

What exactly is resilience and how can it be enhanced? Farming systems in Europe are rapidly evolving while at the same time being under threat, as seen by the disappearance of dozens of farms every day. Farming systems must become more resilient in response to growing economic, environmental, institutional, and social challenges facing Europe's agriculture. Since the COVID-19 pandemic, the need for enhanced resilience has become even more apparent and continues to be an overarching guiding principle of EU policy making. Resilience challenges and strategies are framed within four main processes affecting decision making in agriculture: risk management, farm demographics, governance and agricultural practices. This empirical focus looks at very diverse contexts, with eleven case studies from Belgium, Bulgaria, France, Germany, Great Britain, Italy, Netherlands, Poland, Romania, Spain and Sweden. This study will help determine the future and sustainability of European farming systems. This title is available as Open Access on Cambridge Core.
---