ISSN:

2048-6790 (Print)

,

2048-6790 (Online)

Editor:

Professor P Trayhurn University of Liverpool, UK & University of Buckingham, UK
Journal of Nutritional Science is an international, peer-reviewed, online only, open access journal that welcomes high-quality research articles in all aspects of nutrition. The underlying aim of all work should be, as far as possible, to develop nutritional concepts. JNS encompasses the full spectrum of nutritional science including public health nutrition, epidemiology, dietary surveys, nutritional requirements, metabolic studies, body composition, energetics, appetite, obesity, ageing, endocrinology, immunology, neuroscience, microbiology, genetics, molecular and cellular biology and nutrigenomics. JNS is willing to consider studies reporting negative results, providing that they make a clear contribution to nutritional knowledge - such as by challenging current orthodoxy, or the inability to reproduce important recent findings. JNS welcomes Primary Research Papers, Brief Reports, Review Articles, Systematic Reviews, Workshop Reports, Letters to the Editor and Obituaries.
---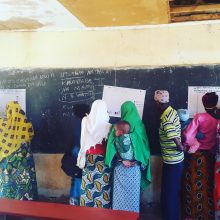 09 July 2021,
Maria is a smallholder farmer in rural Singida, Tanzania. We worked together for the past few years on the Singida Nutrition and Agroecology Project (SNAP-Tz),...
02 Jan 2019, by
The Nutrition Society is pleased to announce 3 new appointments:
---