2

results

in Series for the International Neuropsychological Society
---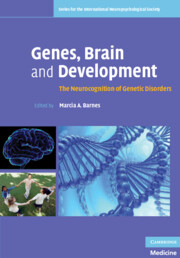 The Neurocognition of Genetic Disorders
Published online:

04 August 2010

Print publication:

07 January 2010

Genetic syndromes and neurodevelopmental disorders that have a genetic basis are associated with cognitive and academic disabilities. Genes, Brain and Development reviews the connections between genes, brain, and behavior for a range of genetic disorders, and also considers lifespan and treatment issues. The content further explores what is known about development in neurogenetic disorders, particularly in the domains of language and mathematics, and shows how this knowledge is pertinent to understanding both these specific disorders, and disorders of language and math more generally. This will be essential reading for a wide range of brain scientists and developmental clinicians, including neuropsychologists, cognitive psychologists, neurologists, psychiatrists, pediatricians, neuroscientists and geneticists.
---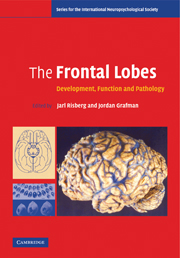 Development, Function and Pathology
Published online:

11 September 2009

Print publication:

13 November 2006

The frontal lobes and their functional properties are recognised as crucial to establishing our identity as autonomous human beings. This book provides a broad introductory overview of this unique brain region. In an accessible and readable style it covers the evolutionary significance of the frontal lobes, typical and atypical development pathways, the role played in normal cognition, memory and emotion, and in damaged states, resulting in a range of neurological syndromes and psychiatric disturbances. The coverage integrates current theoretical knowledge with observations of both normal and disturbed behaviour across the lifespan. The result is an easy to read review of this fascinating and involved field suitable for graduate students in neuropsychology and psychology, clinicians from the fields of neurology, neurosurgery or psychiatry, and researchers engaged in neuroscientific investigations.
---