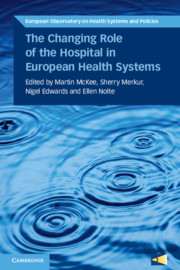 Coming soon

Expected online publication date:

June 2020

Print publication:

30 June 2020

Hospitals today face a huge number of challenges, including new patterns of disease, rapidly evolving medical technologies, ageing populations and continuing budget constraints. This book is written by clinicians for clinicians and hospital managers, and those who design and operate hospitals. It sets out why hospitals need to change as the patients they treat and the technology to treat them changes. In a series of chapters by leading authorities in their field, it challenges existing models, reviews best practice from many countries and presents clear policy recommendations for policymakers and hospital administrators. It covers the main patient groups and conditions as well as those departments that make modern effective care possible, in imaging and laboratory medicine. Each chapter looks at patient pathways, aspects of workforce, required levels of specialisation and technology, and the opportunities and challenges for optimising the delivery of services in the hospital of the future.This title is also available as Open Access on Cambridge Core.
---
Evidence, Strategies and Challenges

Coming soon

Expected online publication date:

May 2020

Print publication:

31 May 2020

The idea of person-centred health systems is widely advocated in political and policy declarations to better address health system challenges. A person-centred approach is advocated on political, ethical and instrumental grounds and believed to benefit service users, health professionals and the health system more broadly. However, there is continuing debate about the strategies that are available and effective to promote and implement 'person-centred' approaches. This book brings together the world's leading experts in the field to present the evidence base and analyse current challenges and issues. It examines 'person-centredness' from the different roles people take in health systems, as individual service users, care managers, taxpayers or active citizens. The evidence presented will not only provide invaluable policy advice to practitioners and policymakers working on the design and implementation of person-centred health systems but will also be an excellent resource for academics and graduate students researching health systems in Europe.
---
Edited by ,

London School of Economics and Political Science

,

,

World Health Organization, Geneva

,

,

,

University of Sheffield

Published online:

04 August 2010

Print publication:

25 March 2010

, pp

589-634

Summary

Introduction

In November 2005, a young French woman received the world's first ever face transplant. The operation was carried out in Amiens, France, by a team that was mainly French but contained one Belgian. This case exemplified very visibly the benefits that free movement of health professionals can bring to the delivery of the increasingly complex health care being provided in Europe. The benefits of professional mobility extend far beyond the very specialized care involved in that exceptional case. Within Europe, there are both surpluses and shortages of health professionals. The opening of borders offers a means to ensure that appropriate health professionals and potential patients are brought together, whether through movement of patients or, as is discussed in this chapter, movement of professionals. In addition, there are particular issues that arise in border areas, where patients may live closer to a hospital across the border than to one in their home state. Especially where these areas are sparsely populated, it is simply good management of resources to ensure that health professionals can also move across borders, working in the most appropriate facilities, wherever they are situated.

Yet there are also dangers. The large economic differences between Member States, which have grown substantially with the two most recent enlargements to the European Union, pose a challenge for the poorer countries. A plentiful supply of health professionals, coupled with formidable physical barriers to migration, meant that, during the communist era, wages were very low in comparison with other occupations.
---