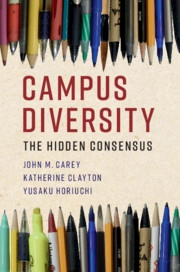 The Hidden Consensus

Coming soon

Expected online publication date:

December 2019

Print publication:

31 January 2020

Media, politicians, and the courts portray college campuses as divided over diversity and affirmative action. But what do students and faculty really think? This book uses a novel technique to elicit honest opinions from students and faculty and measure preferences for diversity in undergraduate admissions and faculty recruitment at seven major universities, breaking out attitudes by participants' race, ethnicity, gender, socio-economic status, and political partisanship. Scholarly excellence is a top priority everywhere, but the authors show that when students consider individual candidates, they favor members of all traditionally underrepresented groups - by race, ethnicity, gender, and socio-economic background. Moreover, there is little evidence of polarization in the attitudes of different student groups. The book reveals that campus communities are less deeply divided than they are often portrayed to be; although affirmative action remains controversial in the abstract, there is broad support for prioritizing diversity in practice.
---
Journal: Japanese Journal of Political Science / Volume 20 / Issue 3 / September 2019
Published online by Cambridge University Press:

24 June 2019

, pp. 129-142

Print publication:

September 2019

In recent years, concerns about misinformation in the media have skyrocketed. President Donald Trump has repeatedly claimed that various news outlets are disseminating 'fake news' for political purposes. But when the information contained in mainstream media news reports provides no clear clues about its truth value or any indication of a partisan slant, do people rely on the congeniality of the news outlet to judge whether the information is true or false? In a survey experiment, we presented partisans (Democrats and Republicans) and ideologues (liberals and conservatives) with a news article excerpt that varied by source shown (CNN, Fox News, or no source) and content (true or false information), and measured their perceived accuracy of the information contained in the article. Our results suggest that the participants do not blindly judge the content of articles based on the news source, regardless of their own partisanship and ideology. Contrary to prevailing views on the polarization and politicization of news outlets, as well as on voters' growing propensity to engage in 'partisan motivated reasoning,' source cues are not as important as the information itself for partisans on both sides of the aisle.
---
Published online:

05 May 2013

Print publication:

02 May 2013

, pp

vii-viii
---