ISSN:

0025-7273 (Print)

,

2048-8343 (Online)

Editors:

Professor Sanjoy Bhattacharya University of York, UK , Dr Arnab Chakraborty University of York, UK , Dr Tara Alberts University of York, UK , Dr Aude Fauvel Institut des humanités en médecine, Switzerland and Professor Kayo Yasuda Tokyo Metropolitan University, Japan
Medical History is a refereed journal devoted to all aspects of the history of medicine, health and related sciences, with the goal of broadening and deepening the understanding of the field, in the widest sense, by historical studies of the highest quality. It is associated with the European Association for the History of Medicine and Health, the Asian Society for the History of Medicine, and the World Health Organization's Global Health Histories initiative. The membership of the Editorial Board reflects the commitment to the finest international standards in refereeing of submitted papers and the reviewing of books. The journal publishes in English, but welcomes submissions from scholars for whom English is not the first language; language and copy-editing assistance will be provided wherever possible.
---
Global Health Histories
Global Health Histories aims to publish outstanding and innovative scholarship on the history of public health, medicine and science worldwide. By studying the many ways in which the impact of ideas of health and well-being on society were measured and described in different global, international, regional, national and local contexts, books in the series will reconceptualise the nature of empire, the nation state, extra-state actors and different forms of globalization. The series will showcase new approaches to writing about the connected histories of health and medicine, humanitarianism, and global economic and social development.

General Editor: Sanjoy Bhattacharya, University of York
---
07 July 2020,
The late eighteenth and early nineteenth centuries provide a particularly enlightening example of the ways that the meaning of race can shift and change in...
04 December 2019,
The open access 2019 issue of BJHS Themes addresses the 'endings' of scientific collections, telling stories of dispersal, destruction, absorption, re-purposing...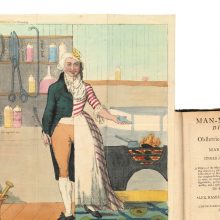 25 September 2019,
We brought together experts from several disciplines and challenged them to think about change and continuity in the history of procreation.