ISSN:

0018-2680 (Print)

,

1748-5959 (Online)

Editors:

A.J. Angulo University of Massachusetts Lowell, USA and Jack Schneider University of Massachusetts Lowell, USA
The History of Education Quarterly is an international, peer-reviewed academic journal dedicated to publishing high-quality scholarship on the history of education. It is the official journal of the field's leading professional society in the United States, the History of Education Society, and has been published continuously since 1960. The journal encourages submissions from a range of intersecting sub-fields in social, political, economic, intellectual, and cultural history, including (but not limited to): Urban History, Policy History, Sociology of Knowledge, Colonialism and Colonial Education, History of Childhood and Youth, Gender Studies, Ethnic History, Indigenous Education, Cultural Studies, Comparative History, and the History of Ideas.
---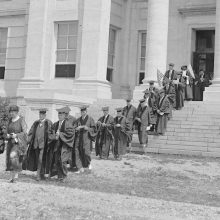 03 October 2018,
In my piece, I emphasized the external pressures placed on individuals and institutions—what the American Association of University Professors termed "the tyranny...