3

results

in Studies in Comparative Early Modern History
---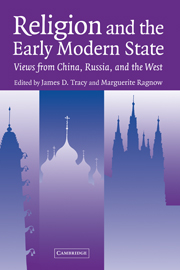 Views from China, Russia, and the West
Published online:

23 May 2010

Print publication:

25 October 2004

How did state power impinge on the religion of the ordinary person? This perennial issue has been sharpened as historians uncover the process of 'confessionalization' or 'acculturation', by which officials of state and Church collaborated in ambitious programs of Protestant or Catholic reform, intended to change the religious consciousness and the behaviour of ordinary men and women. In the belief that specialists in one area of the globe can learn from the questions posed by colleagues working in the same period in other regions, this 2005 volume sets the topic in a wider framework. Thirteen essays, grouped in themes affording parallel views of England and Europe, Tsarist Russia, and Ming China, show a spectrum of possibilities for what early modern governments tried to achieve by regulating religious life, and for how religious communities evolved in new directions, either in keeping with or in spite of official injunctions.
---
State Power and World Trade, 1350–1750
Published online:

25 March 2010

Print publication:

25 October 1991

The Political Economy of Merchant Empires focuses on why European concerns eventually achieved dominance in global trade in the period between 1450 and 1750, at the expense, especially in Asia, of well-organised and well-financed rivals. The volume is a companion to The Rise of Merchant Empires, also edited by James Tracy, which dealt with changes in the growth and composition of long-distance trade during the same period.
---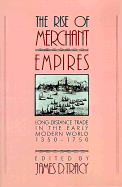 Long Distance Trade in the Early Modern World 1350–1750
Published online:

01 June 2011

Print publication:

27 April 1990

European dominance of the shipping lanes in the early modern period was a prelude to the great age of European imperial power in the nineteenth and early twentieth centuries. Yet in the present age we can see that the pre-imperial age was in fact more an 'age of partnership' or an 'age of competition' when the West and Asia vied on even terms. The essays in this volume examine, on a global basis, the many different trading empires from the end of the Middle Ages to the eighteenth century.
---