2

results

in Medieval European Coinage
---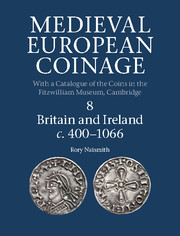 Volume 8, Britain and Ireland c.400–1066
Published online:

11 May 2017

Print publication:

20 April 2017

This volume of Medieval European Coinage traces the coinage and monetary history of Britain and Ireland in the early Middle Ages, offering the first major single-volume treatment of the subject in decades. It examines the period from the end of the Roman province of Britain in the fifth century to the Norman Conquest of England in 1066 and the Anglo-Norman invasion of Ireland in 1169–71. The volume re-evaluates the complex seventh- and eighth-century English coinages, follows the evolution of the Anglo-Saxon coinage into one of the most sophisticated monetary systems in medieval Europe, and also covers the coins issued by Viking settlers in parts of England and Ireland. Bringing recent advances in historical and numismatic research to a wider audience, this landmark volume is supported by one of the most complete catalogues of the period illustrating the world-class collection of the Fitzwilliam Museum.
---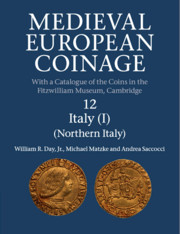 Volume 12, Northern Italy
Published online:

11 May 2017

Print publication:

17 November 2016

This volume of Medieval European Coinage is the first comprehensive survey of the coinage of north Italy c.950–1500, bringing the latest research to an international audience. It provides an authoritative and up-to-date account of the coinages of Piedmont, Liguria, Lombardy and the greater Veneto, which have never been studied together in such detail on a broad regional basis. The volume reveals for the first time the wider trends that shaped the coinages of the region and offers new syntheses of the monetary history of the individual cities. It includes detailed appendices, such as a list of coin hoards, indices and a glossary, as well as a fully illustrated catalogue of the north Italian coins, including those of Genoa, Milan and Venice, in the unrivalled collection of the Fitzwilliam Museum, largely formed by Professor Philip Grierson (1910–2006).
---