3

results

in The Cambridge History of the American Civil War
---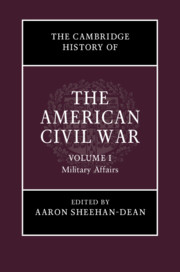 Volume 1, Military Affairs
Published online:

11 October 2019

Print publication:

31 October 2019

This volume narrates the major battles and campaigns of the conflict, conveying the full military experience during the Civil War. The military encounters between Union and Confederate soldiers and between both armies and irregular combatants and true non-combatants structured the four years of war. These encounters were not solely defined by violence, but military encounters gave the war its central architecture. Chapters explore well-known battles, such as Antietam and Gettysburg, as well as military conflict in more abstract places, defined by political qualities (like the border or the West) or physical ones (such as rivers or seas). Chapters also explore the nature of civil-military relations as Union armies occupied parts of the South and garrison troops took up residence in southern cities and towns, showing that the Civil War was not solely a series of battles but a sustained process that drew people together in more ambiguous settings and outcomes.
---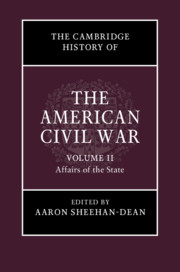 Volume 2, Affairs of the State
Published online:

11 October 2019

Print publication:

31 October 2019

This volume explores the political and social dimensions of the Civil War in both the North and South. Millions of Americans lived outside the major campaign zones so they experienced secondary exposure to military events through newspaper reporting and letters home from soldiers. Governors and Congressmen assumed a major role in steering the personnel decisions, strategic planning, and methods of fighting, but regular people also played roles in direct military action, as guerrilla fighters, as nurses and doctors, and as military contractors. Chapters investigate a variety of aspects of military leadership and management, including coverage of technology, discipline, finance, the environment, and health and medicine. Chapters also consider the political administration of the war, examining how antebellum disputes over issues such as emancipation and the draft resulted in a shift of partisan dynamics and the ways that people of all stripes took advantage of the flux of war to advance their own interests.
---
Volume 3, Affairs of the People
Published online:

11 October 2019

Print publication:

31 October 2019

This volume analyzes the cultural and intellectual impact of the war, considering how it reshaped Americans' spiritual, cultural, and intellectual habits. The Civil War engendered an existential crisis more profound even than the changes of the previous decades. Its duration, scale, and intensity drove Americans to question how they understood themselves as people. The chapters in the third volume distinguish the varied impacts of the conflict in different places on people's sense of themselves. Focusing on particular groups within the war, including soldiers, families, refugees, enslaved people, and black soldiers, the chapters cover a broad range of ways that participants made sense of the conflict as well as how the war changed their attitudes about gender, religion, ethnicity, and race. The volume concludes with a series of essays evaluating the ways Americans have memorialized and remembered the Civil War in art, literature, film, and public life.
---