3

results

in African Identities: Past and Present
---
Same-Sex Intimacy, Gender, and Identity in Postcolonial Ghana

Coming soon

Expected online publication date:

January 2021

Print publication:

31 January 2021

Knowing Women is a study of same-sex desire in West Africa, which explores the lives and friendships of working-class women in southern Ghana who are intimately involved with each other. Based on in-depth research of the life histories of women in the region, Serena O. Dankwa highlights the vibrancy of everyday same-sex intimacies that have not been captured in a globally pervasive language of sexual identity. Paying close attention to the women's practices of self-reference, Dankwa refers to them as 'knowing women' in a way that both distinguishes them from, and relates them to categories such as lesbian or supi, a Ghanaian term for female friend. In doing so, this study is not only a significant contribution to the field of global queer studies in which both women and Africa have been underrepresented, but a starting point to further theorize the relation between gender, kinship, and sexuality that is key to queer, feminist, and postcolonial theories. This title is also available as Open Access on Cambridge Core.
---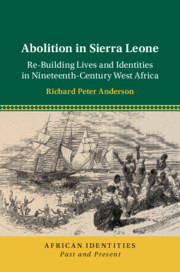 Re-Building Lives and Identities in Nineteenth-Century West Africa
Published online:

09 January 2020

Print publication:

30 January 2020

Tracing the lives and experiences of 100,000 Africans who landed in Sierra Leone having been taken off slave vessels by the British Navy following Britain's abolition of the trans-Atlantic slave trade, this study focuses on how people, forcibly removed from their homelands, packed on to slave ships, and settled in Sierra Leone were able to rebuild new lives, communities, and collective identities in an early British colony in West Africa. Their experience illuminates both African and African diaspora history by tracing the evolution of communities forged in the context of forced migration and the missionary encounter in a prototypical post-slavery colonial society. A new approach to the major historical field of British anti-slavery, studied not as a history of legal victories (abolitionism) but of enforcement and lived experience (abolition), Richard Peter Anderson reveals the linkages between emancipation, colonization, and identity formation in the Black Atlantic.
---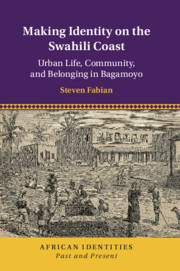 Urban Life, Community, and Belonging in Bagamoyo
Published online:

28 October 2019

Print publication:

07 November 2019

Situated at a crossroads of trade in the late nineteenth century, and later the economic capital of German East Africa, the thriving caravan and port town of Bagamoyo, Tanzania is one of many diverse communities on the East African coast which has been characterized as 'Swahili'. Seeking an alternate framework for understanding community and identity, Steven Fabian combines extensive archival sources from African and European archives alongside fieldwork in Bagamoyo to move beyond the category of 'Swahili' as it has been traditionally understood. Revealing how townspeople - Africans, Arabs, Indians, and Europeans alike - created a local vocabulary which referenced aspects of everyday town life and bound them together as members of a shared community, this first extensive examination of Bagamoyo's history from the pre-colonial era to independence uses a new lens of historical analysis to emphasize the importance of place in creating local, urban identities and suggests a broader understanding of these concepts historically along the Swahili Coast.
---