Book: Why Boredom Matters
Published online:

21 July 2022

Print publication:

04 August 2022

, pp

21-46

Summary

To see how education can offer a space for contending with the ubiquitous problem of boredom, I first need to begin to define what boredom is and understand how it constitutes a "problem" for the pursuit of a flourishing life. The most vexing kind of boredom is what Heidegger describes as "existential boredom," characterized by a disenchantment with life and a struggle to find meaning. In contrast to situational boredom, which ebbs and flows depending upon external conditions, existential boredom is often an enduring condition that, while affected by material conditions, is not reducible to them. Situational boredom points to a clear and immediate solution in some kind of action, while the cure for existential boredom is often unclear. Even more problematic, as I will argue, the avoidance of situational boredom intensifies existential boredom. The pervasive cures for situational boredom are the causes of existential boredom.
---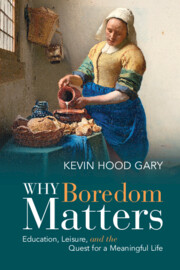 Education, Leisure, and the Quest for a Meaningful Life
Published online:

21 July 2022

Print publication:

04 August 2022

Boredom is an enduring problem. In response, schools often do one or both of the following: first, they endorse what novelist Walker Percy describes as a 'boredom avoidance scheme,' adopting new initiative after new initiative in the hope that boredom can be outrun altogether, or second, they compel students to accept boring situations as an inevitable part of life. Both strategies avoid serious reflection on this universal and troubling state of mind. In this book, Gary argues that schools should educate students on how to engage with boredom productively. Rather than being conditioned to avoid or blame boredom on something or someone else, students need to be given tools for dealing with their boredom. These tools provide them with internal resources that equip them to find worthwhile activities and practices to transform boredom into a more productive state of mind. This book addresses the ways students might gain these skills.
---
from A - LITERARY GUIDE
Published online:

28 March 2008

Print publication:

01 April 2004

, pp

373-381

Summary

The traditional story of the rise of monasticism as a fourth-century phenomenon associated par excellence with the Egyptian desert, is a Catholic legend, which, unlike many others, was reinforced, rather than questioned, by Protestant scholarship, happy to regard monasticism as a late, and therefore spurious, development. The literature falls into two categories: the literature of those monastic movements of the fourth century condemned as heretical; and literature that is eccentric to the geographical hegemony of Egypt in the traditional literature. The Life of St Antony, almost certainly by Athanasius of Alexandria, is the model, not only for all monastic Lives, but for the genre of the saint's Life itself. Instructional literature obviously includes monastic rules: those of Pachomius, Basil, Augustine, and, for Palestine, what can be discerned of the rules of Chariton and Gerasimus. The most important monastic literature of an instructional kind is the writings of Evagrius and John Cassian.
---