Book: Why Boredom Matters
Published online:

21 July 2022

Print publication:

04 August 2022

, pp

126-134

Summary

In the epilogue, I offer a coda on the pursuit of leisure. While schools (teachers and administrators) can make strides toward cultivating leisure in students, the art of leisure is fundamentally a subjective task. It is learning how to be a person – how to live with and contend with the angels and demons that plague human existence.
---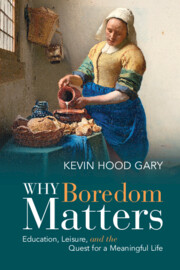 Education, Leisure, and the Quest for a Meaningful Life
Published online:

21 July 2022

Print publication:

04 August 2022

Boredom is an enduring problem. In response, schools often do one or both of the following: first, they endorse what novelist Walker Percy describes as a 'boredom avoidance scheme,' adopting new initiative after new initiative in the hope that boredom can be outrun altogether, or second, they compel students to accept boring situations as an inevitable part of life. Both strategies avoid serious reflection on this universal and troubling state of mind. In this book, Gary argues that schools should educate students on how to engage with boredom productively. Rather than being conditioned to avoid or blame boredom on something or someone else, students need to be given tools for dealing with their boredom. These tools provide them with internal resources that equip them to find worthwhile activities and practices to transform boredom into a more productive state of mind. This book addresses the ways students might gain these skills.
---