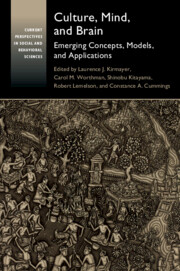 Emerging Concepts, Models, and Applications

Coming soon

Expected online publication date:

September 2020

Print publication:

30 September 2020

Recent neuroscience research makes it clear that human biology is cultural biology - we develop and live our lives in socially constructed worlds that vary widely in their structure values, and institutions. This integrative volume brings together interdisciplinary perspectives from the human, social, and biological sciences to explore culture, mind, and brain interactions and their impact on personal and societal issues. Contributors provide a fresh look at emerging concepts, models, and applications of the co-constitution of culture, mind, and brain. Chapters survey the latest theoretical and methodological insights alongside the challenges in this area, and describe how these new ideas are being applied in the sciences, humanities, arts, mental health, and everyday life. Readers will gain new appreciation of the ways in which our unique biology and cultural diversity shape behavior and experience, and our ongoing adaptation to a constantly changing world.
---
from Section C - Group and Cultural Processes

Edited by ,

Cornell University, New York

,

,

Princeton University, New Jersey

,

,

University of Houston

Published online:

05 August 2016

Print publication:

11 August 2016

, pp

400-404

Summary

Early in the fall of 1982, I arrived in Ann Arbor from Japan as a new social psychology graduate student, and met Hazel Markus. She was on the University of Michigan faculty back then. Over the next five years, we frequently discussed cultural differences between her country (the United States) and mine (Japan). This conversation eventually culminated in a Psychological Review paper. We argued that many aspects of the East–West cultural variations in thinking and feeling, as well as in behavior, could be linked to cultural construals of the self as either independent (dominant in the United States) or interdependent (dominant in Japan). We reviewed a wide range of available evidence. Fortunately for us, the notion of independent and interdependent self-construal gained traction, not only on our home turf of social and cultural psychology, but also in a wide range of other fields, including cognitive psychology, marketing, organizational behavior, education, and, more recently, neuroscience and genetics.

In this essay, I would like to reflect on this development. In particular, I would like to highlight two lines of work I have done. The goal is to shed new light on future directions of the study of the human mind as biologically prepared and, yet, culturally completed.

What Was New?

At the highest level of abstraction, our proposal was analogous to some existing ideas in sociology, anthropology, and cross-cultural psychology. All these ideas, ours included, pertained to the ways in which social structures or cultural meaning systems are organized. Like all others, we also spent a lot of pages to delineate how collectively shared ideas and institutions could be patterned by the cultural models of independence and interdependence.

However, we went a step further by proposing that the cultural patterns and social structures are related to basic psychological processes. This means that the sociocultural is inherently intertwined with the psychological, including the nature of agency. The proposal to delineate this interdependence, or mutual constitution, between culture and the self, in some empirically tractable fashion was new back then. It still is current today.
---
Journal: Behavioral and Brain Sciences / Volume 36 / Issue 5 / October 2013
Published online by Cambridge University Press:

29 August 2013

, pp. 486-487

Print publication:

October 2013

Evidence Van de Vliert draws on is more consistent with the idea that settlement in the frontier encourages independent mentality and individualistic social institutions. This cultural system can sometimes flourish, generating both wealth and power, but clearly not always. In our view, wealth is, for the most part, a measure of success of any given cultural group, and climate is important to the extent that it plays a role in creating rugged lands of frontier.
---