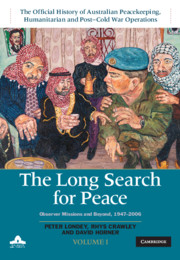 Observer Missions and Beyond, 1947–2006
Volume 1, The Official History of Australian Peacekeeping, Humanitarian and Post-Cold War Operations

Coming soon

Expected online publication date:

August 2019

Print publication:

31 October 2019

Volume I of the Official History of Australian Peacekeeping, Humanitarian and Post-Cold War Operations recounts the Australian peacekeeping missions that began between 1947 and 1982, and follows them through to 2006, which is the end point of this series. The operations described in The Long Search for Peace - some long, some short; some successful, some not - represent a long period of learning and experimentation, and were a necessary apprenticeship for all that was to follow. Australia contributed peacekeepers to all major decolonisation efforts: for thirty-five years in Kashmir, fifty-three years in Cyprus, and (as of writing) sixty-one years in the Middle East, as well as shorter deployments in Indonesia, Korea and Rhodesia. This volume also describes some smaller-scale Australian missions in the Congo, West New Guinea, Yemen, Uganda and Lebanon. It brings to life Australia's long-term contribution not only to these operations but also to the very idea of peacekeeping.
---
from PART 6 - THE BORNEO CAMPAIGN

Book: Australia 1944–45
Published online:

05 December 2015

Print publication:

11 November 2015

, pp

257-277

Summary

To Major-General George Vasey the situation on 13 January 1943 was one of despair. His division, the 7th Australian, had been fighting the Japanese in Papua since October 1942, had driven them out of Kokoda and the mountains, had crushed Major-General Horii's South Seas Force at the battle of Oivi-Gorari in early November, and had then pursued the Japanese to the coast. But with months to prepare their defences and with their backs to the Bismarck Sea, the final Japanese defences at the beachheads were proving formidable. Heavily dug in and reinforced, they had inflicted serious casualties on the Australians and Americans at Gona and Buna. Disease in the low-lying marshland on the north coast of Papua had taken an even bigger toll on the Allies. After months of grinding attrition, Gona and Buna had fallen; now only the last Japanese bastion, Sanananda, remained. The day before, 12 January, one of Vasey's infantry brigades, supported by tank and heavy artillery fire, had again assaulted the Japanese at Sanananda. Once more, they made no progress. Vasey and his troops, who could no longer call on armoured support, were exhausted and despondent.

With all this on his mind his corps commander, the American Lieutenant General Robert Eichelberger, and the corps Chief of Staff, the Australian Major-General Frank Berryman, now joined Vasey. They arrived at Vasey's headquarters (HQ) tent to discuss future operations, but the 7th Division's commander was out of troops and short of ideas. He argued to his visitors that to continue the attack against deeply entrenched Japanese positions using only infantry was inviting a repetition of the 'costly mistakes of 1915–1917' and those attacks were 'unlikely to succeed'. Outside intervention was needed, he argued, and an amphibious force should be landed by sea to outflank the Japanese and hit them from the rear.

Berryman, however, did not think such an operation was viable. His reasoning, above all else, was that there was not enough shipping available. Eichelberger agreed, adding that the limited number of landing spots in the difficult terrain would mean that any force landed by sea could not be supplied properly due to the tidal flats in the area.
---