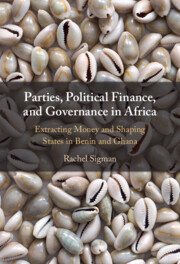 Extracting Money and Shaping States in Benin and Ghana

Coming soon

Expected online publication date:

February 2023

Print publication:

28 February 2023

A major challenge for the advancement of democratic governance in Africa is the extraction of money by ruling parties from the state to fund their electoral campaigns and gain political advantage over opponents. Drawing upon in-depth case studies of Benin and Ghana, Rachel Sigman considers how, and with what consequences, party leaders control and access public funds to finance their political operations. Weaving together biographical data on government ministers, surveys of civil servants, elite interviews, and archival research, Sigman explains leaders' extraction strategies and connects these strategies to how politicians manage state personnel. In so doing, she challenges the perception of African states as uniformly weak and argues that effective government is possible even in the contexts of widespread state politicization, corruption, and clientelism. Demonstrating the profound impact that extractive financing practices have on democratic institutions, Sigman illuminates and develops our understanding of "good governance" across the African continent.
---
Journal: Perspectives on Politics / Volume 16 / Issue 3 / September 2018
Published online by Cambridge University Press:

21 August 2018

, pp. 866-868

Print publication:

September 2018
---
Journal: Political Science Research and Methods / Volume 7 / Issue 3 / July 2019
Published online by Cambridge University Press:

18 April 2018

, pp. 595-612

Print publication:

July 2019

Although equality figures prominently in many foundational theories of democracy, liberal and electoral conceptions of democracy have dominated empirical political science research on topics like political regimes, democratization and democratic survival. This paper develops the concept of egalitarian democracy as a regime that provides de facto protection of rights and freedoms equally across the population, distributes resources in a way that enables meaningful political participation for all citizens and fosters an environment in which all individuals and social groups can influence political and governing processes. Using new indicators from the Varieties of Democracy project, the paper develops and presents measures of these important concepts, demonstrates their relationship to existing measures, and illustrates their utility for advancing the study of democracy in ways that more fully embrace the richness of democratic theory.
---