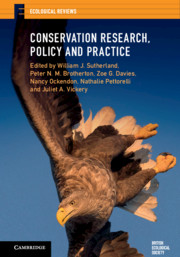 Coming soon

Expected online publication date:

April 2020

Print publication:

30 April 2020

Conservation research is essential for advancing knowledge but to make an impact scientific evidence must influence conservation policies, decision making and practice. This raises a multitude of challenges. How should evidence be collated and presented to policymakers to maximise its impact? How can effective collaboration between conservation scientists and decision-makers be established? How can the resulting messages be communicated to bring about change? Emerging from a successful international symposium organised by the British Ecological Society and the Cambridge Conservation Initiative, this is the first book to practically address these questions across a wide range of conservation topics. Well-renowned experts guide readers through global case studies and their own experiences. A must-read for practitioners, researchers, graduate students and policymakers wishing to enhance the prospect of their work 'making a difference'. This title is also available as Open Access on Cambridge Core.
---
Edited by ,

Max-Planck-Institut für Evolutionäre Anthropologie, Germany

,

,

Max-Planck-Institut für Evolutionäre Anthropologie, Germany

Book: Monogamy
Published online:

05 July 2014

Print publication:

11 September 2003

, pp

42-58

Summary

INTRODUCTION

The majority of hypotheses proposed to explain the evolution of social monogamy focus on the benefits of biparental care to offspring (e.g., Kleiman, 1977; Wittenberger & Tilson, 1980). This is probably for two reasons. First, most socially monogamous fish, birds and mammals show some form of biparental care; indeed, this association is so close that many early authors included biparental care in their definitions of monogamy (e.g., Lorenz, 1963, p. 167; Lack, 1968, pp. 4-5; Brown, 1975, p. 168; Wilson, 1975, p. 589). Second, given the enormous difference that normally exists between the potential reproductive rates of the sexes (especially in mammals because of female gestation and lactation: Clutton-Brock & Vincent, 1991), it is difficult to explain why the most competitive males are unable to monopolize more than one mate, unless males are constrained by paternal commitments.

Although understandable, this emphasis on the benefits of biparental care has, we believe, shifted the focus of the debate on social and/or genetic monogamy away from its original evolution and onto its current function and maintenance. In this chapter we address this imbalance by considering the origins of social monogamy in mammals. First, we attempt to reconstruct the evolutionary routes by which social monogamy could have evolved, by considering the social and parental care systems that may have been exhibited by non-monogamous ancestors.
---