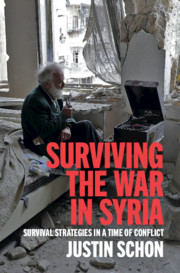 Survival Strategies in a Time of Conflict

Coming soon

Expected online publication date:

October 2020

Print publication:

31 October 2020

It is estimated that of Syria's pre-war population, over half have been displaced from their homes, some having moved abroad and many remaining in the country despite the threats posed by civil war from Bashar Assad's government, ISIS, foreign intervention, and a proliferation of rebel groups and militias. Despite this, migration is just one option out of a broad set of potential self-protection strategies available to civilians, with other strategies including fighting, protesting, collaborating, or hiding. In this study, Justin Schon emphasises that civilian behaviour in conflict zones includes repertoires of survival strategies, instead of migration alone. Providing a microanalysis of civilian self-protection strategies during armed conflict in Syria, Schon draws on ten months of fieldwork in Turkey, Jordan, Kenya, and the United States, with over two hundred structured interviews with Syrian refugees. Exploring how civilians select specific survival strategies, their motives and opportunities, he reveals questions which have the potential to guide new research on civil wars, and affect how we think about other survival strategies, from political, violent, to environmental threats.
---
Journal: Perspectives on Politics , First View
Published online by Cambridge University Press:

26 May 2020

, pp. 1-14

Armed conflict creates a context of high uncertainty and risk, where accurate and verifiable information is extremely difficult to find. This is a prime environment for unverified information—rumors—to spread. Meanwhile, there is insufficient understanding of exactly how rumor transmission occurs within conflict zones. I address this with an examination of the mechanisms through which people evaluate new information. Building on findings from research on motivated reasoning, I argue that elite-driven narrative contests—competitions between elites to define how civilians should understand conflict—increase the difficulty of distinguishing fact from fiction. Civilians respond by attempting thorough evaluations of new information that they hope will allow them to distinguish evidence from narratives. These evaluations tend to involve some combination of self-evaluation, evaluation of the source, and collective sense-making. I examine this argument using over 200 interviews with Syrian refugees conducted in Jordan and Turkey. My findings indicate that people are usually unable to effectively distinguish evidence from narratives, so narrative contests are powerful drivers of rumor evaluation. Still, civilian mechanisms of rumor evaluation do constrain what propaganda elites can spread. These findings contribute to research on civil war, narrative formation, and information diffusion.
---
Journal: Perspectives on Politics / Volume 15 / Issue 4 / December 2017
Published online by Cambridge University Press:

20 November 2017

, pp. 1200-1201

Print publication:

December 2017
---