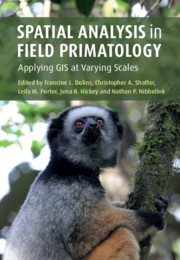 Applying GIS at Varying Scales

Coming soon

Expected online publication date:

July 2020

Print publication:

31 July 2020

From foraging patterns in a single tree to social interactions across a home range, how primates use space is a key question in the field of primate behavioral ecology. Drawing on the latest advances in spatial analysis tools, this book offers practical guidance on applying geographic information systems (GIS) to central questions in primatology. An initial methodological section discusses niche modelling, home range analysis and agent-based modelling, with a focus on remote data collection. Research-based chapters demonstrate how ecologists apply this technology to study intensity of range use and travel routes, as well as to population-level questions; how GIS can help to assess the impact of logging, mining and hunting, as well as to inform primate conservation strategies. Offering best practice guidelines on cutting-edge technologies, this is an indispensable resource for any primatologist or student of animal behaviour.
---