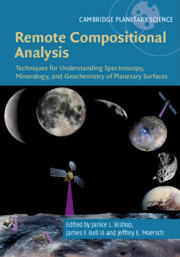 Techniques for Understanding Spectroscopy, Mineralogy, and Geochemistry of Planetary Surfaces

Coming soon

Expected online publication date:

September 2019

Print publication:

30 September 2019

How do planetary scientists analyze and interpret data from laboratory, telescopic, and spacecraft observations of planetary surfaces? What elements, minerals, and volatiles are found on the surfaces of our Solar System's planets, moons, asteroids, and comets? This comprehensive volume answers these topical questions by providing an overview of the theory and techniques of remote compositional analysis of planetary surfaces. Bringing together eminent researchers in Solar System exploration, it describes state-of-the-art results from spectroscopic, mineralogical, and geochemical techniques used to analyze the surfaces of planets, moons, and small bodies. The book introduces the methodology and theoretical background of each technique, and presents the latest advances in space exploration, telescopic and laboratory instrumentation, and major new work in theoretical studies. This engaging volume provides a comprehensive reference on planetary surface composition and mineralogy for advanced students, researchers, and professional scientists.
---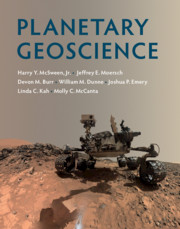 Coming soon

Expected online publication date:

June 2019

Print publication:

11 July 2019

For many years, planetary science has been taught as part of the astronomy curriculum, from a very physics-based perspective, and from the framework of a tour of the Solar System - body by body. Over the past decades, however, spacecraft exploration and related laboratory research on extraterrestrial materials have given us a new understanding of planets and how they are shaped by geological processes. Based on a course taught at the University of Tennessee, Knoxville, this is the first textbook to focus on geologic processes, adopting a comparative approach that demonstrates the similarities and differences between planets, and the reasons for these. Profusely illustrated, and with a wealth of pedagogical features, this book provides an ideal capstone course for geoscience majors - bringing together aspects of mineralogy, petrology, geochemistry, volcanology, sedimentology, geomorphology, tectonics, geophysics and remote sensing.
---
By , International Research School of Planetary Sciences, Universita' d'Annunzio, Pescara, , International Research School of Planetary Sciences, Universita' d'Annunzio, Pescara, , International Research School of Planetary Sciences, Universita' d'Annunzio, Pescara, , Dept. of Geological Sciences, University of Tennessee, Knoxville

Book: The Geology of Mars
Published online:

18 September 2009

Print publication:

17 May 2007

, pp

322-348

Summary

Introduction

Playas (dry lakes) are a type of lacustrine system that are dry most of the time, and can be flooded only occasionally. A playa environment, despite its dry conditions, is characterized by an active hydrological cycle. This is evidenced by a wide range of hydrogeological processes operating today or in the recent past. Therefore, playas are a fundamentally different environment from dry desiccated deserts, and identification of playas on Mars has significant implications for the planet's hydroclimatic history.

Mars currently is dominated by a hyperarid environment. Today, water appears to exist abundantly in the Martian polar caps, and also in the surrounding high-latitude regions, but as near-surface ice (Boynton et al., 2002), not liquid water. Whether or not there are localities with recent active hydrogeological processes is uncertain. However, there may have been sites of stable lakes (deep-water lakes) in the past. Such sites would have changed to playa environments, owing to the decline in the water budget, and eventually desiccated completely. Photogeologic surveys have identified possible paleoshorelines in the northern plains (Parker et al., 1989) and crater lakes (Cabrol and Grin, 1999; Ori et al., 2000a; Malin and Edgett, 2003). If these features are in fact paleoshorelines, it would necessarily imply that conditions suitable for stable oceans and lakes must have existed at some point in Mars' history. Ice-covered paleolakes could have also existed, and their shoreline geomorphology could differ from that of paleolakes without ice cover.
---