Corpus Linguistics and the Construction of Mental Illness in the Press

Coming soon

Expected online publication date:

March 2022

Print publication:

31 March 2022

Mental health is a matter of vital importance in today's society, with the news media reporting on the topic on an almost daily basis. Despite this, the language associated with mental health has to date been relatively under-explored. Using methods from corpus linguistics and critical discourse analysis, this pioneering book is the first large-scale linguistic investigation of UK news reports on mental illness. Based on a purpose-built corpus of 45 million words of UK press reports on mental illness, it offers a range of analyses exploring language development across time, in addition to focusing on the differences between press representations of specific mental illnesses. The book provides linguistic insights into public perceptions of mental illness, as well as stigma creation and perpetuation in the media. It also includes original and significant methodological innovations, making it a vital resource for researchers for in corpus linguistics, health communication, and the health humanities.
---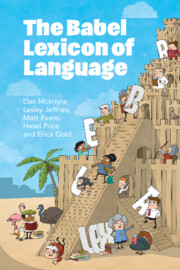 Coming soon

Expected online publication date:

November 2021

Print publication:

30 November 2021

What's the word that describes the process of making supportive noises when you're listening to someone? What is syntax and how does it differ from grammar? Do you know what a morpheme is? And did you know that it's not only an atom that has a nucleus? The Babel Lexicon of Language is an entertaining and accessible introduction to the key terminology involved in the study of language. It defines over 500 terms and uses contemporary language examples, explaining complex issues in an easy-to-understand way. Written by the expert editorial team behind Babel, the popular language magazine, and assuming no prior knowledge of linguistics, The Babel Lexicon of Language is an invaluable resource for students, teachers and anyone with an interest in language.
---
George G. Kirov

,

Laura Owen

,

Hazel Ballard

,

Adele Leighton

,

Kara Hannigan

,

Danielle Llewellyn

,

Valentina Escott-Price

,

Maria Atkins
Journal: The British Journal of Psychiatry / Volume 208 / Issue 3 / March 2016
Published online by Cambridge University Press:

02 January 2018

, pp. 266-270

Print publication:

March 2016

Background

Electroconvulsive therapy (ECT) is the most effective acute treatment for severe depression, but widely held concerns about memory problems may limit its use.

Aims

To find out whether repeated or maintenance courses of ECT cause cumulative cognitive deterioration.

Method

Analysis of the results of 10 years of cognitive performance data collection from patients who have received ECT. The 199 patients had a total of 498 assessments, undertaken after a mean of 15.3 ECT sessions (range 0–186). A linear mixed-effect regression model was used, testing whether an increasing number of ECT sessions leads to deterioration in performance.

Results

The total number of previous ECT sessions had no effect on cognitive performance. The major factors affecting performance were age, followed by the severity of depression at the time of testing and the number of days since the last ECT session.

Conclusions

Repeated courses of ECT do not lead to cumulative cognitive deficits. This message is reassuring for patients, carers and prescribers who are concerned about memory problems and confusion during ECT.
---