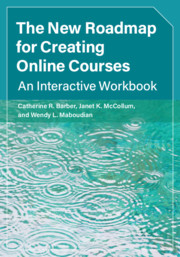 An Interactive Workbook

Coming soon

Expected online publication date:

June 2020

Are you ready to create an online course, but do not know where to start? Do your online learners seem isolated and disengaged? Are your online courses effective enough for the current, competitive market? Whether you are an instructor, instructional designer, or part of a team, this interactive workbook will help you create effective online courses to engage your learners. Key features of the workbook include integrating cognitive, social, and emotional aspects of learning; explaining the central role of self-reflection, dialogue, and realistic application; the incorporation of themes, scenarios, and characters to provide relevant and meaningful learning experiences; and the use of semiotics for inclusion of diverse learners. As you journey through the course creation process in this workbook, you will expand your ideas and discover new possibilities for the students taking your online course.
---