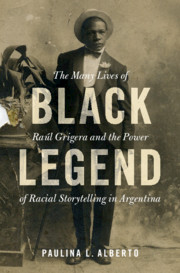 The Many Lives of Raúl Grigera and the Power of Racial Storytelling in Argentina
Published online:

06 January 2022

Print publication:

06 January 2022

Celebrities live their lives in constant dialogue with stories about them. But when these stories are shaped by durable racist myths, they wield undue power to ruin lives and obliterate communities. Black Legend is the haunting story of an Afro-Argentine, Raúl Grigera ('el negro Raúl'), who in the early 1900s audaciously fashioned himself into an alluring Black icon of Buenos Aires' bohemian nightlife, only to have defamatory storytellers unmake him. In this gripping history, Paulina Alberto exposes the destructive power of racial storytelling and narrates a new history of Black Argentina and Argentine Blackness across two centuries. With the extraordinary Raúl Grigera at its center, Black Legend opens new windows into lived experiences of Blackness in a 'white' nation, and illuminates how Raúl's experience of celebrity was not far removed from more ordinary experiences of racial stories in the flesh.
---
Book: Black Legend
Published online:

06 January 2022

Print publication:

06 January 2022

, pp

1-17

Summary

I introduce readers to Raúl Grigera, to master narratives of race (Whiteness and Blackness) in Argentina, and to the hundreds of defamatory stories by which Raúl came to be known and remembered. I use this corpus to sketch the composite story of his life that the book goes on to debunk and rewrite: his supposedly unknowable or inexplicable origins, his early orphandom and wayward youth, his spurious fame as a buffoon of the city's elite, his oft-anticipated decline and death. Engaging with literature in psychology, critical race studies, literary theory, and other fields to explore narrative's singularly persuasive power, the introduction develops the concept of "racial stories" and makes the case for the urgency of crafting new, critical counter-stories. It goes on to explore the problem of Black celebrity in a White nation where that idea was almost a contradiction in terms. Finally, it considers my own role as one more narrator of Raúl's tale – yet another racial storyteller – and provides an overview of the book's arguments and structure.
---