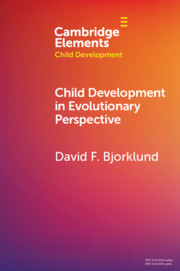 Published online:

02 October 2020

Print publication:

29 October 2020

Natural selection has operated as strongly or more so on the early stages of the lifespan as on adulthood. One evolved feature of human childhood is high levels of behavioral, cognitive, and neural plasticity, permitting children to adapt to a wide range of physical and social environments. Taking an evolutionary perspective on infancy and childhood provides a better understanding of contemporary human development, predicting and understanding adult behavior, and explaining how changes in the early development of our ancestors produced contemporary Homo sapiens.
---
Published online:

23 March 2020

Print publication:

28 May 2020

, pp

28-36

Summary

Vertebrates may be born highly dependent (altricial) or may rapidly gain independence (precocial). Primates are generally considered somatically precocial. However, all are at least initially helpless, and many primates have a prolonged phase of juvenility. In this chapter, we discuss how selection may influence the relative timing of appearance of morphological features (heterochrony). Newborn primate morphology offers unique insights into the roles of prenatal and postnatal growth processes, primarily because metabolic costs for growth commence a transition from the mother to the infant at this point in time. With this in mind, primates vary remarkably at birth in dental eruption and mineralization status as well as limb skeleton ossification (e.g., wrists and ankles). We also discuss evidence, still relatively scant, that at birth primates vary greatly in the degree to which neural organs (e.g., brains, eyes) have achieved adult size and proportions. In preparation for morphological descriptions to follow, the reader is introduced to the concept of modularity of growth: different parts of the skeleton or even parts of regions have different rates of growth and development.
---
Journal: International Journal of Tropical Insect Science / Volume 9 / Issue 1 / February 1988
Published online by Cambridge University Press:

19 September 2011

, pp. 69-72

Print publication:

February 1988

Experiments carried out in a coffee plantation to determine the developmental period of Icerya paltersoni (Newst.) showed that the female and male scales lasted 157 and 129 days on average, respectively. The different stages of I. pattersoni females were found to be recognizable by the number of antennal segments. The antenna of the stage I nymphal instar is six segmented, stage II is nine segmented and stage III is eleven segmented. The antenna of adult males is eighteen segmented. Females are neotenic but the males possess a pair of grey wings and atrophied mouthparts. In the field the I. pattersoni pest population size is highest in the heavy rainfall months of April and May.
---