from Part III - Cache-Aided Interference and Physical Layer Management
Edited by ,

Université du Luxembourg

,

,

,

Université du Luxembourg

,

,

Singapore University of Technology and Design

Book: Wireless Edge Caching
Published online:

19 October 2020

Print publication:

11 March 2021

, pp

236-256

Summary

This chapter investigates the impact of caching in the interference networks. First, we briefly review the basics of some classic interference networks and the corresponding interference management techniques. Then we review an interference network with caches equipped at all transmitters and receivers, termed as cache-aided interference network. The information-theoretic metric normalized delivery time (NDT) is introduced to characterize the system performance. The NDT in the cache-aided interference network is discussed for both single-antenna and multiple-antenna cases. It is shown that with different cache sizes, the network topology can be opportunistically changed to different classic interference networks, which leverages local caching gain, coded multicasting gain, and transmitter cooperation gain (via interference alignment and interference neutralization). Finally, the NDT results are extended to the partially connected interference network.
---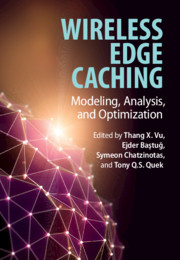 Modeling, Analysis, and Optimization
Published online:

19 October 2020

Print publication:

11 March 2021

Understand both uncoded and coded caching techniques in future wireless network design. Expert authors present new techniques that will help you to improve backhaul, load minimization, deployment cost reduction, security, energy efficiency and the quality of the user experience. Covering topics from high-level architectures to specific requirement-oriented caching design and analysis, including big-data enabled caching, caching in cloud-assisted 5G networks, and security, this is an essential resource for academic researchers, postgraduate students and engineers working in wireless communications.
---