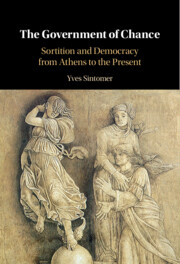 Sortition and Democracy from Athens to the Present

Coming soon

Expected online publication date:

February 2023

Print publication:

16 February 2023

Electoral democracies are struggling. Sintomer, in this instructive book, argues for democratic innovations. One such innovation is using random selection to create citizen bodies with advisory or decisional political power. 'Sortition' has a long political history. Coupled with elections, it has represented an important yet often neglected dimension of Republican and democratic government, and has been reintroduced in the Global North, China and Mexico. The Government of Chance explores why sortation is returning, how it is coupled with deliberation, and why randomly selected 'minipublics' and citizens' assemblies are flourishing. Relying on a growing international and interdisciplinary literature, Sintomer provides the first systematic and theoretical reconstruction of the government of chance from Athens to the present. At what conditions can it be rational? What lessons can be drawn from history? The Government of Chance therefore clarifies the democratic imaginaries at stake: deliberative, antipolitical, and radical, making a plaidoyer for the latter.
---
Published by: Anthem Press
Published online:

05 March 2012

Print publication:

15 April 2011

, pp

329-346

Summary

But because what we propose to study above all is reality, it does not follow that we should give up the idea of improving it. We would esteem our research not worth the labour of a single hour if its interest were merely speculative.

(Durkheim,

The Division of Labor in Society

, p. xxvi)

In the French edition of The Weight of the World, Bourdieu contends that the goal of his critical sociology is to 'open up possibilities for rational action to unmake or remake what history has made' (1999 [1993]: 187). But what is 'rational action' in politics? And what potential contribution can intellectuals make to it? This last question is the one that I would like to address here, taking Bourdieu's own answers to it as my starting point. The aim will not be to analyse the concrete orientation of his public interventions, but instead to understand the type of articulation between political life and the intellectual world that he conceptualised. I have no philological ambitions of retracing Bourdieu's trajectory from the 1960s onwards. My intention is to focus on his theorisation of these issues during the last period of his life, from the moment he committed himself increasingly to the public realm (the turning point here is symbolised by the publication in 1993 of The Weight of the World, whose echo outside the academic world was considerable).
---