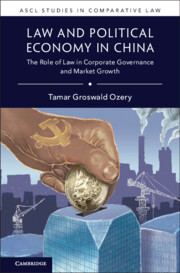 The Role of Law in Corporate Governance and Market Growth

Coming soon

Expected online publication date:

June 2023

Print publication:

30 June 2023

Applying a novel theoretical approach, Tamar Groswald Ozery combines law and political economy to deconstruct the role of law in China's market development since 1978. The book examines how economic and administrative powers within China's Party-state system have been legally and politically configured throughout China's growth process. Using a vast range of primary sources, Ozery illuminates how the law acts as a mediating institution that translates and gives shape to the relations between politics and economics. Using the evolution of public firms and corporate governance as a case study, Ozery illustrates the complex relationships between law, politics, and economic development, and sheds new light on the possible varieties of growth-supporting governance institutions in firms. By studying China's distinct market experience through the lens of law and political economy, Ozery offers a significant contribution to development studies, comparative corporate governance, and interdisciplinary discussions about China as a growth model.
---