Journal: Politics & Gender , First View
Published online by Cambridge University Press:

26 September 2022

, pp. 1-22

Article

You have access

Open access

Research shows that masculinity and sexuality are pivotal to the leadership and success of the populist radical right (PRR). In particular, normative conceptions of masculinity, as seen in gendered nationalism, have been argued to be important to the appeal of PRR parties. However, the supply side of this dynamic remains understudied. To fill this gap, this article uses critical discourse analysis to analyze the role of masculinity and sexuality in the self-positioning and envisioned hegemonies of the most successful Dutch PRR leaders: Pim Fortuyn, Geert Wilders, and Thierry Baudet. The Dutch case is particularly insightful as it presents a diverse array of PRR parties in one country context. We found crucial similarities and differences between the discourses of these leaders. Our findings suggest that masculinity and sexuality, while constitutive at the party level, are largely negotiable or nondefining for the larger party family. These findings problematize often-made identifications of PRR politics with a one-of-a-kind conservative ideology of gender and sexuality.
---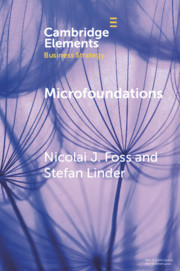 Nature, Debate, and Promise
Published online:

18 November 2019

Print publication:

28 November 2019

'Microfoundations' has become prominent in the discourse of management scholars. But what is it and how does it matter? This Element provides a characterization of microfoundations based on classical work on the methodology of social science and documents and discusses its manifestations in management research over the last one and a half decades. It also covers the relation of microfoundations to multilevel research, criticisms of microfoundations, and empirical research strategies for microfoundations.
---