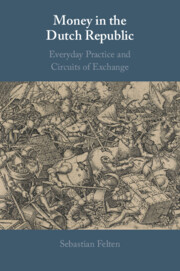 Everyday Practice and Circuits of Exchange

Coming soon

Expected online publication date:

March 2022

Print publication:

31 March 2022

The Dutch Republic was an important hub in the early modern world-economy, a place where hundreds of monies were used alongside each other. Sebastian Felten explores regional, European and global circuits of exchange by analysing everyday practices in Dutch cities and villages in the period 1600-1850. He reveals how for peasants and craftsmen, stewards and churchmen, merchants and metallurgists, money was an everyday social technology that helped them to carve out a livelihood. With vivid examples of accounting and assaying practices, Felten offers a key to understanding the internal logic of early modern money. This book uses new archival evidence and an approach informed by the history of technology to show how plural currencies gave early modern users considerable agency. It explores how the move to uniform national currency limited this agency in the nineteenth century and thus helps us make sense of the new plurality of payments systems today.
---
Journal: Renaissance Quarterly / Volume 70 / Issue 4 / Winter 2017
Published online by Cambridge University Press:

20 November 2018

, pp. 1586-1587

Print publication:

Winter 2017
---