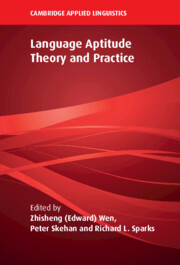 Coming soon

Expected online publication date:

March 2023

Print publication:

31 March 2023

The last few years have witnessed exponential growth in research output within the field of language aptitude. With contributions from an international team of leading experts, this volume provides the most comprehensive, authoritative and up-to-date overview of developments in language aptitude theory and practice. It addresses central and newly emerging methodological and theoretical issues, and revisits and re-examines the most popular language aptitude tests, including the most durable and innovative batteries. It also provides in-depth demonstrations of language aptitude research paradigms, including well-established and emerging ones, scrutinizing them from multidisciplinary perspectives. Aptitude treatment interactions studies are reported and discussed, and pedagogical implications are provided, to illuminate theory construction, test development, policymaking, curriculum design and classroom practice. Seamlessly integrating theory, research, assessment and practice, it is essential reading for anyone seeking to learn more about language learning, training and teaching, and will further advance the research in this exciting, fast-paced field.
---
Journal: Applied Psycholinguistics / Volume 33 / Issue 2 / April 2012
Published online by Cambridge University Press:

05 August 2011

, pp. 343-363

Print publication:

April 2012

English as a foreign language (EFL) spelling was examined longitudinally three times (4th, 9th, 12th grades) during 9 years of EFL study among Hebrew first language (L1) students. The study examined the impact of L1 literacy variables including phonemic awareness, word attack, and spelling on EFL spelling and the relationship between EFL literacy variables and EFL spelling. Results showed that English spelling measured at earlier points strongly predicted later English spelling. L1 literacy skills measured in fourth grade were more significant than English word recognition in explaining end of ninth grade EFL spelling. Beginning of first year EFL letter knowledge in fourth grade predicted end of first-year EFL spelling. These results show qualitatively different L1 and EFL literacy abilities impacting EFL spelling at 4th, 9th, and 12th grades.
---
Journal: Applied Psycholinguistics / Volume 30 / Issue 4 / October 2009
Published online by Cambridge University Press:

01 October 2009

, pp. 725-755

Print publication:

October 2009

Fifty-four students were followed over 10 years beginning in first grade to determine best predictors of oral and written second language (L2) proficiency. Predictor variables included measures of first language (L1) skill administered in first through fifth grades, L1 academic aptitude, L2 aptitude (Modern Language Aptitude Test), and L2 affect (motivation, anxiety). All participants completed 2 years of L2 study in high school. Findings revealed strong correlations between early L1 skills and later L2 proficiency, but the Modern Language Aptitude Test was the best predictor of overall L2 proficiency and most L2 proficiency subtests. However, L1 word decoding was the best predictor of L2 word decoding skills. Early L1 skills, L2 motivation, or L2 anxiety added a small amount of variance to the prediction models. Findings suggested that language-related variables are the most robust predictors of L2 proficiency. Results are discussed in the context of long-term cross linguistic transfer of early L1 skills to later L2 aptitude and L2 proficiency.
---