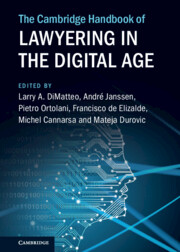 Coming soon

Expected online publication date:

November 2021

Print publication:

25 November 2021

With increasing digitalization and the evolution of artificial intelligence, the legal profession is on the verge of being transformed by technology (legal tech). This handbook examines these developments and the changing legal landscape by providing perspectives from multiple interested parties, including practitioners, academics, and legal tech companies from different legal systems. Scrutinizing the real implications posed by legal tech, the book advocates for an unbiased, cautious approach for the engagement of technology in legal practice. It also carefully addresses the core question of how to balance fears of industry takeover by technology with the potential for using legal tech to expand services and create value for clients. Together, the chapters develop a framework for analyzing the costs and benefits of new technologies before they are implemented in legal practice. This interdisciplinary collection features contributions from lawyers, social scientists, institutional officials, technologists, and current developers of e-law platforms and services.
---
from Part II - Contract Law and Smart Contracts
Published online:

25 October 2019

Print publication:

10 October 2019

, pp

61-79

Summary

This chapter examines in the first place the formation of (blockchain-based) smart contracts. The term "smart contract" is used to refer to software programs that are often (but not necessarily) built on blockchain technology as a set of promises, specified in digital form, including protocols within which the parties perform on these promises. It is regularly said that smart contracts are neither legal contracts in the traditional sense nor are they smart and that the term therefore is a misnomer. The crucial question this chapter is trying to answer is whether the traditional (Common Law) concept of contract formation is seriously challenged by the rise of smart contracts. So are smart contracts the end of contract formation as we know it, or is it at the end just much ado about nothing? And if contract law is in principle fit for the formation of smart contracts, do they have features which do challenge the traditional contract law, and if yes what are those features? These are some of the questions this contribution is trying to answer.
---