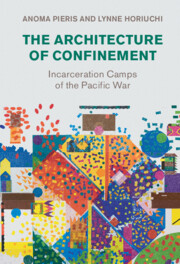 Incarceration Camps of the Pacific War

Coming soon

Expected online publication date:

February 2022

Print publication:

28 February 2022

In this global and comparative study of Pacific War incarceration environments we explore the arc of the Pacific Basin as an archipelagic network of militarized penal sites. Grounded in spatial, physical and material analyses focused on experiences of civilian internees, minority citizens, and enemy prisoners of war, the book offers an architectural and urban understanding of the unfolding history and aftermath of World War II in the Pacific. Examples are drawn from Australia, New Zealand, Singapore, Japan, and North America. The Architecture of Confinement highlights the contrasting physical facilities, urban formations and material character of various camps and the ways in which these uncover different interpretations of wartime sovereignty. The exclusion and material deprivation of selective populations within these camp environments extends the practices by which land, labor and capital are expropriated in settler-colonial societies; practices critical to identity formation and endemic to their legacies of liberal democracy.
---