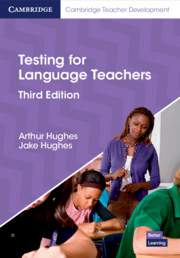 3rd edition

Coming soon

Expected online publication date:

April 2021

Print publication:

02 July 2020

This book provides an accessible guide to concepts in language testing and the testing of specific skills and systems. It combines theory and practical recommendations to help teachers understand the principles of testing and how they can be applied, supporting them to write better tests. The third edition has been extensively revised and updated to reflect recent developments in the field, while retaining the straightforward approach that made the earlier editions essential reading for trainee and experienced teachers alike. It features new content on technology, including computer adaptive testing and the use of automated scoring for all skills. It also includes an extended discussion of language testers' responsibilities, new chapters on non-testing methods of assessment and a checklist to help teachers choose tests.
---
Tara Murphy

,

David L. Kaplan

,

Martin E. Bell

,

J. R. Callingham

,

Steve Croft

,

Simon Johnston

,

Dougal Dobie

,

Andrew Zic

,

Jake Hughes

,

Christene Lynch

,

Paul Hancock

,

Natasha Hurley-Walker

,

Emil Lenc

,

K. S. Dwarakanath

,

B.-Q. For

,

B. M. Gaensler

,

L. Hindson

,

M. Johnston-Hollitt

,

A. D. Kapińska

,

B. McKinley

,

J. Morgan

,

A. R. Offringa

,

P. Procopio

,

L. Staveley-Smith

,

R. Wayth

,

C. Wu

,

Q. Zheng
Journal: Publications of the Astronomical Society of Australia / Volume 34 / 2017
Published online by Cambridge University Press:

26 April 2017

, e020

We present low-frequency spectral energy distributions of 60 known radio pulsars observed with the Murchison Widefield Array telescope. We searched the GaLactic and Extragalactic All-sky Murchison Widefield Array survey images for 200-MHz continuum radio emission at the position of all pulsars in the Australia Telescope National Facility (ATNF) pulsar catalogue. For the 60 confirmed detections, we have measured flux densities in 20 × 8 MHz bands between 72 and 231 MHz. We compare our results to existing measurements and show that the Murchison Widefield Array flux densities are in good agreement.
---