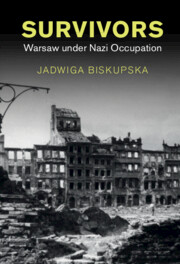 Warsaw under Nazi Occupation

Coming soon

Expected online publication date:

February 2022

Print publication:

28 February 2022

Survivors tells the harrowing story of life in Warsaw under Nazi occupation. As the epicentre of Polish resistance, Warsaw was subjected to violent persecution, the ghettoization of the city's Jewish community, the suppression of multiple uprisings, and an avalanche of restrictions that killed hundreds of thousands and destroyed countless lives. In this study into the unique brutality of wartime Warsaw, Jadwiga Biskupska traces how Nazi Germany set out to dismantle the Polish nation and state for long-term occupation by targeting its intelligentsia. She explores how myriad resistance projects emerged within the intelligentsia who were bent on maintaining national traditions and rebuilding a Polish state. In contrast to other studies on the Holocaust and World War II, this book focuses on Polish behavior and explains who was in a position to contest the occupation and collaborate with it, while answering lingering questions and addressing controversies about Nazi empire and the Holocaust in Eastern Europe.
---
---