Coming soon

Expected online publication date:

May 2023

Print publication:

31 May 2023

Moral education is an enduring concern for societies committed to the value of justice and the wellbeing of children. What kind of moral guidance do young people need to navigate the social world today? Which theories, perspectives, values, and ideals are best suited for the task? This volume offers educators insight into both the challenges and promises of moral education from a variety of ethical perspectives. It introduces and analyses several important developments in ethics and moral psychology and discusses how some key moral problems can be addressed in contemporary classrooms. In doing so, Moral Education in the 21st Century helps readers develop a deeper understanding of the complexities of helping young people grow into moral agents and ethical people. As such, researchers, students, and professionals in the fields of moral education, moral psychology, moral philosophy, ethics, educational theory, and philosophy of education will benefit from this volume.
---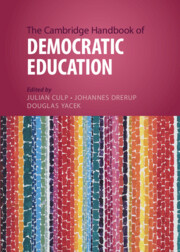 Coming soon

Expected online publication date:

April 2023

Print publication:

27 April 2023

What kind of education is needed for democracy? How can education respond to the challenges that current democracies face? This unprecedented Handbook offers a comprehensive overview of the most important ideas, issues, and thinkers within democratic education. Its thirty chapters are written by leading experts in the field in an accessible format. Its breadth of purpose and depth of analysis will appeal to both researchers and practitioners in education and politics. The Handbook addresses not only the historical roots and philosophical foundations of democratic education, but also engages with contemporary political issues and key challenges to the project of democratic education.
---