ISSN:

0043-1745 (Print)

,

1550-2759 (Online)

Editor:

William K. Vencill College of Agricultural & Environmental Sciences, University of Georgia, USA
Weed Science publishes original research and scholarship in the form of peer-reviewed articles focused on fundamental research directly related to all aspects of weed science in agricultural systems. Topics for Weed Science include:
- the biology and ecology of weeds in agricultural, forestry, aquatic, turf, recreational, rights-of-way and other settings, genetics of weeds

- herbicide resistance, chemistry, biochemistry, physiology and molecular action of herbicides and plant growth regulators used to manage undesirable vegetation

- ecology of cropping and other agricultural systems as they relate to weed management

- biological and ecological aspects of weed control tools including biological agents, and herbicide resistant crops

- effect of weed management on soil, air and water.

Recently published articles
Article
Nathan S. Boyd

,

Marcelo L. Moretti

,

Lynn M Sosnoskie

,

Vijay Singh

,

Ramdas Kanissery

,

Shaun Sharpe

,

Thierry Besançon

,

Stanley Culpepper

,

Robert Nurse

,

Harlene Hatterman-Valenti

,

Elizabeth Mosqueda

,

Darren Robinson

,

Matthew Cutulle

,

Ravneet Sandhu
The average time from article submission to first decision is 41 days
---
Featured article from latest issue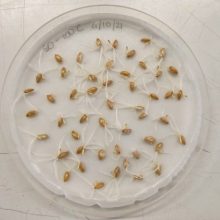 05 July 2022,
Germination/emergence assays are relatively easy to perform, by following clear and standardised procedures. Most often, we take samples of seeds and we put...