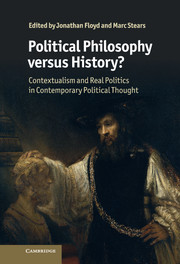 Political Philosophy versus History?
Contextualism and Real Politics in Contemporary Political Thought
Buy print or eBook
[Opens in a new window]
Introduction
Published online by Cambridge University Press:  05 June 2012
Show author details
Summary
Political philosophy is a peculiarly self-reflective discipline. Even more than their colleagues in other subjects throughout the humanities and social sciences, political philosophers regularly question the means and purpose of their practice.
In this volume we carve out a new approach to the identity of political philosophy by exploring a problem that is central to such disciplinary soul-searching: the problem of political philosophy's relationship with history. We do this in part because, according to whether they describe their approach to political philosophy as analytic, continental, Rawlsian, post-Rawlsian, pluralist, realist, post-structural, or indeed, outright historical, political philosophers of different stripes tend, amongst other things, to hold very different positions on this relationship, and that is a very curious pattern. We also do it because, as evinced by the following chapters, reflecting upon the significance of history for political philosophy soon leads to a host of new insights about the nature of our subject.
Type

Chapter

Information

Publisher: Cambridge University Press

Print publication year: 2011