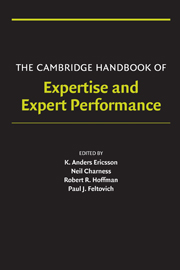 This book is no longer available for purchase

Cited by

482

Crossref Citations

This book has been cited by the following publications. This list is generated based on data provided by CrossRef.

---

Baron, Robert A. and Ensley, Michael D. 2006. Opportunity Recognition as the Detection of Meaningful Patterns: Evidence from Comparisons of Novice and Experienced Entrepreneurs. Management Science, Vol. 52, Issue. 9, p. 1331.

---

Duffy, Patrick J. Lyons, Deirdre C. Moran, Aidan P. Warrington, Giles D. and MacManus, Caroline P. 2006. How we Got Here: Perceived Influences on the Development and Success of International Athletes. The Irish Journal of Psychology, Vol. 27, Issue. 3-4, p. 150.

---

Bauer, Johannes and Mulder, Regina H. 2007. Modelling learning from errors in daily work. Learning in Health and Social Care, Vol. 6, Issue. 3, p. 121.

---

Bransford, John 2007. Preparing People for Rapidly Changing Environments. Journal of Engineering Education, Vol. 96, Issue. 1, p. 1.

---

Ericsson, K. Anders and Ward, Paul 2007. Capturing the Naturally Occurring Superior Performance of Experts in the Laboratory. Current Directions in Psychological Science, Vol. 16, Issue. 6, p. 346.

---

Beltman, Susan and Volet, Simone 2007. Exploring the Complex and Dynamic Nature of Sustained Motivation.