3

results

in A Social History of England
---
Published online:

28 May 2018

Print publication:

13 February 2017

The rise of social history has had a transforming influence on the history of early modern England. It has broadened the historical agenda to include many previously little-studied, or wholly neglected, dimensions of the English past. It has also provided a fuller context for understanding more established themes in the political, religious, economic and intellectual histories of the period. This volume serves two main purposes. Firstly, it summarises, in an accessible way, the principal findings of forty years of research on English society in this period, providing a comprehensive overview of social and cultural change in an era vital to the development of English social identities. Second, the chapters, by leading experts, also stimulate fresh thinking by not only taking stock of current knowledge but also extending it, identifying problems, proposing fresh interpretations and pointing to unexplored possibilities. It will be essential reading for students, teachers and general readers.
---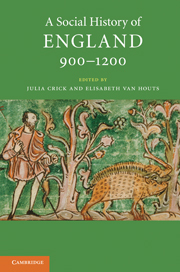 Published online:

05 June 2012

Print publication:

21 April 2011

The years between 900 and 1200 saw transformative social change in Europe, including the creation of extensive town-dwelling populations and the proliferation of feudalised elites and bureaucratic monarchies. In England these developments were complicated and accelerated by repeated episodes of invasion, migration and changes of regime. In this book, scholars from disciplines including history, archaeology and literature reflect on the major trends which shaped English society in these years of transition and select key themes which encapsulate the period. The authors explore the landscape of England, its mineral wealth, its towns and rural life, the health, behaviour and obligations of its inhabitants, patterns of spiritual and intellectual life and the polyglot nature of its population and culture. What emerges is an insight into the complexity, diversity and richness of this formative period of English history.
---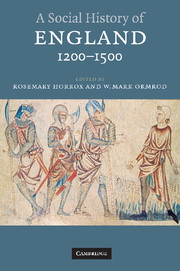 Published online:

05 June 2012

Print publication:

10 August 2006

What was life really like in England in the later Middle Ages? This comprehensive introduction explores the full breadth of English life and society in the period 1200-1500. Opening with a survey of historiographical and demographic debates, the book then explores the central themes of later medieval society, including the social hierarchy, life in towns and the countryside, religious belief, and forms of individual and collective identity. Clustered around these themes a series of authoritative essays develop our understanding of other important social and cultural features of the period, including the experience of war, work, law and order, youth and old age, ritual, travel and transport, and the development of writing and reading. Written in an accessible and engaging manner by an international team of leading scholars, this book is indispensable both as an introduction for students and as a resource for specialists.
---