3

results

in Elements in Evolutionary Economics
---
Published online:

12 May 2021

Print publication:

10 June 2021

Coevolution in economic systems plays a key role in the dynamics of contemporary societies. Coevolution operates when, considering several evolving realms within a socioeconomic system, these realms mutually shape their respective innovation, replication and/or selection processes. The processes that emerge from coevolution should be analyzed as being globally codetermined in dynamic terms. The notion of coevolution appears in the literature on modern innovation economics since the neo-Schumpeterian inception four decades ago. In this Element, these antecedents are drawn on to formally clarify and develop how the coevolution notion can expand the analytical and methodological scope of evolutionary economics, allowing for further unification and advance of evolutionary subfields.
---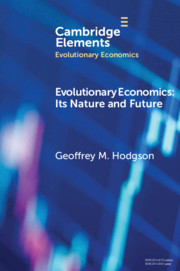 Its Nature and Future
Published online:

15 July 2019

Print publication:

17 October 2019

This Element examines the historical emergence of evolutionary economics, its development into a strong research theme after 1980, and how it has hosted a diverse set of approaches. Its focus on complexity, economic dynamics and bounded rationality is underlined. Its core ideas are compared with those of mainstream economics. But while evolutionary economics has inspired research in a number of areas in business studies and social science, these have become specialized and fragmented. Evolutionary economics lacks a sufficiently-developed core theory that might promote greater conversation across these fields. A possible unifying framework is generalized Darwinism. Stronger links could also be made with other areas of evolutionary research, such as with evolutionary anthropology and evolutionary psychology. As evolutionary economics has migrated from departments of economics to business schools, institutes of innovation studies and elsewhere, it also needs to address the problem of its lack of a single disciplinary location within academia.
---
The Sources of Varying Returns to, and Economies of, Scale
Published online:

20 March 2018

Print publication:

22 March 2018

The main thrust of this Element is a critical assessment of the theory and evidence concerning the sources of scale effects. It is argued that the analysis of static scale effects is important because scale effects are embedding in our world, and new technologies associated with an evolving economy often allow their exploitation when they cannot be exploited in less technically advanced and smaller economies. So, although static equilibrium theory is not a good vehicle for studying economic growth, showing how scale effects operate when output varies with given technology helps us to understand the scale effects that occur when output rises as a result of economic growth, even though that is typically driven by technological change.
---