2

results

in Cambridge Hegel Translations
---
Published online:

12 February 2018

Print publication:

22 February 2018

Hegel's The Phenomenology of Spirit (1807) is one of the most influential texts in the history of modern philosophy. In it, Hegel proposed an arresting and novel picture of the relation of mind to world and of people to each other. Like Kant before him, Hegel offered up a systematic account of the nature of knowledge, the influence of society and history on claims to knowledge, and the social character of human agency itself. A bold new understanding of what, after Hegel, came to be called 'subjectivity' arose from this work, and it was instrumental in the formation of later philosophies, such as existentialism, Marxism, and American pragmatism, each of which reacted to Hegel's radical claims in different ways. This edition offers a new translation, an introduction, and glossaries to assist readers' understanding of this central text, and will be essential for scholars and students of Hegel.
---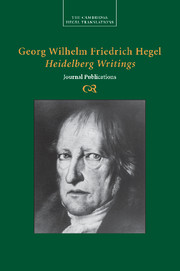 Journal Publications
Published online:

10 December 2009

Print publication:

06 August 2009

This work brings together, for the first time in English translation, Hegel's journal publications from his years in Heidelberg (1816–18), writings which have been previously either untranslated or only partially translated into English. The Heidelberg years marked Hegel's return to university teaching and represented an important transition in his life and thought. The translated texts include his important reassessment of the works of the philosopher F. H. Jacobi, whose engagement with Spinozism, especially, was of decisive significance for the philosophical development of German Idealism. They also include his most influential writing about contemporary political events, his essay on the constitutional assembly in his native Württemberg, which was written against the background of the dramatic political and social changes occurring in post-Napoleonic Germany. The translators have provided an introduction and notes that offer a scholarly commentary on the philosophical and political background of Hegel's Heidelberg writings.
---