3

results

in Cambridge Geographical Studies
---
The Demography of London 1580–1650
Published online:

06 July 2010

Print publication:

20 August 1981

This is a book about the population of London during the early modern period and a detailed book about the population of a European metropolitan city at that time. Much is now known about the historical demography of rural England, but very little is understood about the larger towns and cities. Roger Finlay applies new techniques in historical demography, principally family reconstitution and aggregative analysis of parish registers, to study the growth of population in London. He shows that parish registers are as reliable for the analysis of population trends in London as in rural England. The death rate was much higher in London than in the countryside, and this difference was not offset by a markedly higher birth rate, so the population would have declined but for migration. There were striking variations in both fertility and mortality between contrasting social areas of London.
---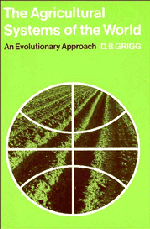 An Evolutionary Approach
Published online:

10 March 2010

Print publication:

07 November 1974

This book is about the prevalent characteristics and distribution of the major agricultural systems of the world - shifting cultivation, wet rice cultivation, pastoral nomadism, Mediterranean agriculture, mixed farming, dairying, plantations, ranching and large-scale grain production. In Part One some major periods and processes that have affected agriculture are discussed. Chapter 2 deals with the origins and early diffusion of agriculture and its significance. Chapter 3 deals with the subsequent diffusion of crops and livestock, particularly since the discovery of the New World, and Chapter 4 with the effect upon agriculture of industrialisation and urbanisation since 1850. In Part Two of the book some description of each type of agriculture is given. It is the author's belief that there can be no adequate account of the prevailing character of world agriculture without recourse to the evolution of agricultural systems. Thus each chapter in Part Two is an essay on the historical development of each of the major systems.
---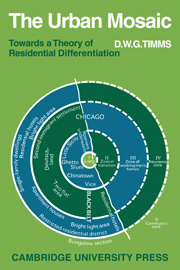 Towards a Theory of Residential Differentiation
Published online:

05 January 2012

Print publication:

02 March 1971

The concept of the city as a mosaic of social worlds has achieved wide currency: the residential differentiation of the urban population provides the matrix for much human activity. In this detailed study, the author demonstrates that much of the manifold variation in the social characteristics of populations living in different parts of the city may be summarized in terms of a small number of factors relating to social rank, style of life preferences and ethnicity. Residential and social differentiation are seen as intimately connected. At the individual level, it is suggested that questions relating to social rank, style of life, and ethnicity provide the main framework for the choice of residential location. At the societal level, it is suggested that the variations in the inter-relationship of the basic differentiating factors are a function of modernization. Empirical material is drawn from an number of Australian cities.
---