3

results

in Cambridge Economic Handbooks
---
Published online:

04 April 2011

Print publication:

24 June 1988

In this book, Professor David Starrett organizes within a single framework the major theoretical foundations of modern public sector economics. He presents a unified treatment of market failure that encompasses externalities, pure public goods, local public goods and natural monopolies. Professor Starrett then develops and assesses the efficacy of the various planning procedures - including representative voting, benefit cost analysis, incentive compatible design mechanisms and the free market. He devotes attention to both national and local issues, with the aim of identifying those methods that are best suited to each arena separately. Special attention is paid to financial arrangements, techniques for eliciting necessary information that is not readily available, and identification of biases that will result from incorrect procedures. This study will be useful to graduate students and economists who are interested in public finance or welfare economics.
---
A Dual, General Equilibrium Approach
Published online:

19 January 2010

Print publication:

30 September 1980

This book expounds trade theory emphasizing that a trading equilibrium is general rather than partial, and is often best modelled using dual or envelope functions. This yields a compact treatment of standard theory, clarifies some errors and confusions, and produces some new departures. In particular, the book (i) gives unified treatments of comparative statics and welfare, (ii) sheds new light on the factor-price equalization issue, (iii) treats the modern specific-factor model in parallel with the usual Heckscher-Ohlin one, (iv) analyses the balance of payments in general equilibrium with flexible and fixed prices, (v) studies imperfect competition and intra-industry trade.
---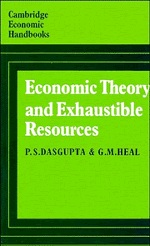 Published online:

04 April 2011

Print publication:

31 March 1980

A presentation of the economic principles relating to the use and management of natural resources, including analysis of optimal use policies.
---