,

Kansas State University

,

,

North Carolina State University

,

,

University of Oregon

,

,

Purdue University, Indiana

,

Published online:

24 November 2020

Print publication:

03 December 2020

, pp

22-45

Summary

The approach to language variation developed over the last half century has focused on systematic variation of variants for a single structural unit under the construct of the linguistic variable. While this approach may offer important detail for particular variables, it is essential to examine the overall configuration of a language variety as well. Composite linguistic measures facilitate the exploration of social factors and offer a profile of change for the entire linguistic system. We describe the methodological tools to provide a global description of language variation, "the composite index", and to fully capture when and why individuals change their linguistic behavior over time. We emphasize the need to view language as a system by moving beyond individual variables to more fully characterize the ways in which individual linguistic features move in-tandem across the lifespan. The study demonstrates that a composite index score like the Dialect Density Measure (DDM) can be used as a means of tracking trajectories of language use across the lifespan on a unidimensional scale.
---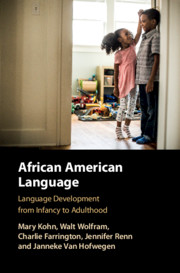 Language development from Infancy to Adulthood
Published online:

24 November 2020

Print publication:

03 December 2020

From birth to early adulthood, all aspects of a child's life undergo enormous development and change, and language is no exception. This book documents the results of a pioneering longitudinal linguistic survey, which followed a cohort of sixty-seven African American children over the first twenty years of life, to examine language development through childhood. It offers the first opportunity to hear what it sounds like to grow up linguistically for a cohort of African American speakers, and provides fascinating insights into key linguistics issues, such as how physical growth influences pronunciation, how social factors influence language change, and the extent to which individuals modify their language use over time. By providing a lens into some of the most foundational questions about coming of age in African American Language, this study has implications for a wide range of disciplines, from speech pathology and education, to research on language acquisition and sociolinguistics.
---