Published online:

20 August 2020

Print publication:

03 September 2020

, pp

73-100

Summary

Chapter 3 addresses the relationship between the various tasks carried out in the Critique of Pure Reason by analyzing Kant's multifaceted use of the term 'transcendental.' Challenging the received view, it maintains that Kant's seemingly divergent accounts of the subject hinge on his conception of transcendental philosophy proper and transcendental critique as first-order and second-order branches of transcendental cognition, respectively. Drawing on a brief account of the seventeenth- and eighteenth-century history of the term 'transcendental,' the chapter seeks to show that Wolffian ontology and transcendental philosophy proper have more in common than is widely assumed: both disciplines can be said to provide a comprehensive account of the cognitive elements presupposed in any cognition of objects. On this account, the novelty of the Critique consists primarily in the second-order investigation into metaphysics that Kant calls transcendental critique. The chapter concludes by examining Kant's criticism of the way his predecessors and contemporaries understood the terms 'ontology' and 'transcendental philosophy.'
---
Published online:

20 August 2020

Print publication:

03 September 2020

, pp

163-190

Summary

Chapter 6 seeks to establish that Kant's account of the schematism of the pure understanding in the Critique of Pure Reason yields the same result as the transcendental deduction, but does so by approaching the question concerning the legitimate use of categories from the angle of time qua pure form of intuition. On my reading, Kant conceives of transcendental schemata and categories as different instances of the a priori rules that determine how the mind can unify a manifold at all. Since transcendental schemata present these rules as ways of unifying successive representations, they can be said to constitute the sensible condition of any a priori cognition of objects. I take Kant to argue that Wolffian metaphysics ought to use categories independently of this condition in order to establish itself as a purely intellectual discipline and, hence, that a priori judgments about the soul or God do not amount to cognitions of objects.
---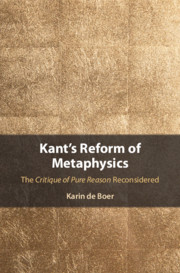 The Critique of Pure Reason Reconsidered
Published online:

20 August 2020

Print publication:

03 September 2020

Scholarly debates on the Critique of Pure Reason have largely been shaped by epistemological questions. Challenging this prevailing trend, Kant's Reform of Metaphysics is the first book-length study to interpret Kant's Critique in view of his efforts to turn Christian Wolff's highly influential metaphysics into a science. Karin de Boer situates Kant's pivotal work in the context of eighteenth-century German philosophy, traces the development of Kant's conception of critique, and offers fresh and in-depth analyses of key parts of the Critique of Pure Reason, including the Transcendental Deduction, the Schematism Chapter, the Appendix to the Transcendental Analytic, and the Architectonic. The book not only brings out the coherence of Kant's project, but also reconstructs the outline of the 'system of pure reason' for which the Critique was to pave the way, but that never saw the light.
---